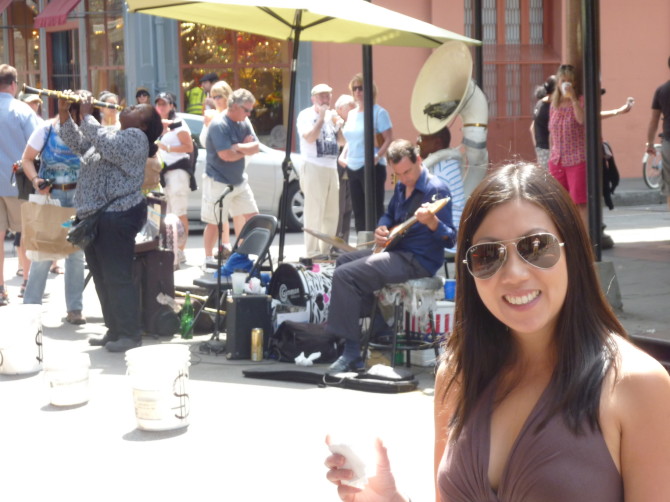 Week or Weekend in New Orleans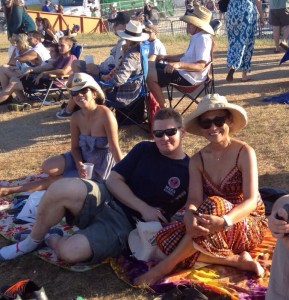 I'm pooped after a full week of festing and partying in New Orleans. We had the perfect weather and a good mix of visits with family, old friends and new acquaintances. If you have the time to visit New Orleans during the Spring, we recommend going to Jazz Fest. It is a festival of music, food and art and it's family oriented so fun can be had by all. I don't think we ever made it home before 2:30 AM during the week. We just returned last night and I can't believe we went back to work this morning.
For a week's stay over Jazz Fest weekend, you can follow a similar crazy schedule like us or you can jump down to the ideal extended weekend details to get an idea of what you can pack in. You can definitely enjoy NOLA in a three or four day visit. If you are in town for Jazz Fest, it's best to leave on the Tuesday because for one, there are no planes leaving Sunday night and it's crazy expensive and busy to fly home on Monday.
If you just want a list of places to visit in New Orleans, we have that too.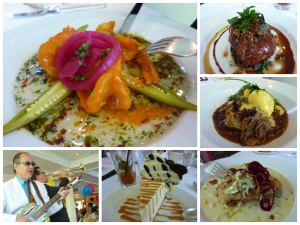 Wednesday
Take a late flight and arrive in New Orleans on Wednesday night.
You probably ate dinner already but I'm sure you can still chow down on some late night bar food and drinks. If you are staying uptown, go to Cooter Brown's or Camellia Grill. If you are staying near the French Quarter, grab food and drinks at Deja Vu Bar and Grill which is open 24/7. Or if you are over at Frenchman Street, go to Port of Call.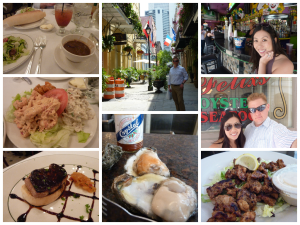 Thursday
Wake up late and have lunch at Galatoire's to experience old money in New Orleans. Be sure to make reservations ahead of time. This is where you'll see men in sport coats and business attire conducting business over two martinis. Friday lunches at Galatoire's is actually the thing to do if you can fit it in. It's what the locals do and I've heard it's quite an experience but we had plans to go to Jazz Fest on Friday. Galitore's is so popular that we actually bumped into some good friends also visiting for the weekend. We shared the Duck & Andouille Gumbo, Foie Gras, Shrimp Remoulade, Crabmeat Maison and Asparagus & Hearts of Palm Salad. This combination was a wonderful introduction back into NOLA's finest foods.
Walk around the French Quarter and duck into the antique shops and art galleries.
Grab a drink at Touche, a part of the Omni Hotel (clean restrooms and nice, casual atmosphere catering mostly to locals) and then have a snack of fried alligator and some oysters at Felix's. Acme just has too many people in line so go across the street to Felix's. It's basically the same thing. A cold beer and some salty fried alligator is the way to go for an afternoon snack!
Finish off the afternoon with some drinks at the bar next door at Voodoo Daquiri or many of the bars on Bourbon Street.
Take a nap and then have a casual dinner to ease into rich food you'll have all week in NOLA.
Catch a show at Tipitina's or House of Blues. We saw Karl Denson's Tiny Universal's Tribute to Rick James at 2 AM. It was so much fun dancing our butts off and the band is incredibly talented. House of Blues is a great venue with big bars, lots of space and ample restrooms.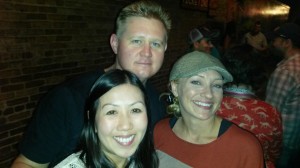 Friday
Grab a coffee, bloody mary, a mimosa or all of the above to get rid of that early morning fog
Head over to the fairgrounds for Jazz Fest and feast all day on fish meuniere (pan fried fish with a sweet sauce sprinkled with pecans) or fish almondine (fried fish with sauce and almonds), boiled spicy crawfish, my fave crawfish monica (rotini pasta with this awesome cajun cream sauce and crawfish – only available at Jazz Fest or if you order it for a catered event), a Cochon de Lait po boy (a sandwich of slow cooked pork that melts in your mouth), grilled chicken livers with pepper jelly, crawfish bread, crawfish pie and fried green tomatoes.
Stay hydrated and avoid getting too drunk under the sun but keep a good buzz going all day.
Have dinner of real New Orleans food like Jacques-Imo's but keep in mind they don't take reservations so there will mostly be a long line, especially if it's Jazz Fest weekend. Or if you want to dine at a local iconic restaurant, visit Eleven 79 for a traditional Italian meal. We had a dish called Rolatini de Melanzane made of thinly sliced eggplant rolled up and filled with ricotta cheese and spinach! I've never had anything like it before and it was delicious. There were three of us so we enjoyed our meal family style, following up with a Crab & Tomato Salad, Veal Eleven 79 (yummy dish with roasted peppers, asparagus and cheese), the daily special of Flounder and Tiramisu dessert. The food here is excellent!Be sure to say hi to our friend and manager, Alexis Segreto.

If you just arrived on a late flight or still have energy after festing, catch a show or have drinks at a place such as The Balcony Bar on Magazine Street in the Garden District.
Saturday or Extended Weekend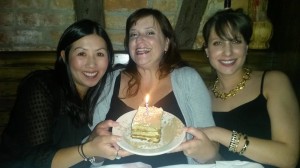 See notes for Friday but expect a much larger crowd at Jazz Fest as the headliners are probably the best of the weekend.
For dinner, you could try one of John Besh's restaurants, Luke or August. Luke's Rabbit Pate, Oysters and Etoufee were good but I wasn't blown away by their other dishes.
Sunday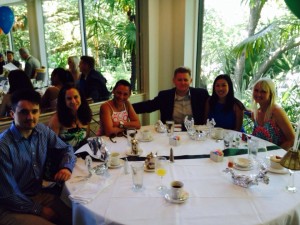 Enjoy brunch at Commander's Palace. Make sure you call two months ahead of time or know someone to get you a table here over Jazz Fest. Their Jazz Brunch includes an appetizer, entree and dessert for a set price based on your entree selection. Even if you're not that hungry or if you're hung over, just go anyways because the experience is special to New Orleans. You will be waited on hand and foot by some great Southern hospitality and the food is outstanding. You must have the Shrimp Henican and Turtle Soup. Don't be shy to have them pack your dessert to go because you'll most likely be too stuffed to eat more than a bite.
Walk around the cemetery across the street and visit the neighborhood to see the nice houses in the area.
The last day of Jazz Fest is a fun day because there are fewer people and the vibe is more relaxed. Everyone is tired from festing all weekend so it's a lazy day under the sun at Jazz Fest. It's a good day to visit the art and jewelry booths.
We went to a crawfish boil hosted by The Crawfish King and then had a late dinner of pizza.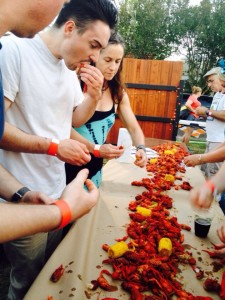 Monday
Sleep in and grab an early lunch. Then go on a plantation tour at noon.
Have dinner at a nice restaurant such as the James Beard award winning Peche which our local friends recommended but we couldn't get a reservation there. We were supposed to go to Cochon but I messed up our reservations so I was bummed we didn't make it to Cochon, again highly recommended by our friends.
Go to the French Quarter as it won't be as busy and have a taste of a Hurricane at Pat O'Brien's where the drink originated. Pat O's has a patio bar with a fire fountain, a main bar and a piano bar. Have a drink at whichever feels the most comfortable for you and your friends.
Then head over to Frenchman Street for some live music and more drinks. If it's Jazz Fest weekend, there will be a cool night market offering art and jewelry.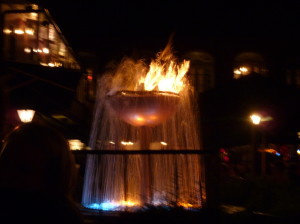 Tuesday
Have a late breakfast in the Garden District and visit all the cool little boutiques on Magazine Street and/or go into the French Quarter and take a horse and buggy tour.
Take a coffee and beignet break at Cafe du Monde and check out the French Market before heading home.