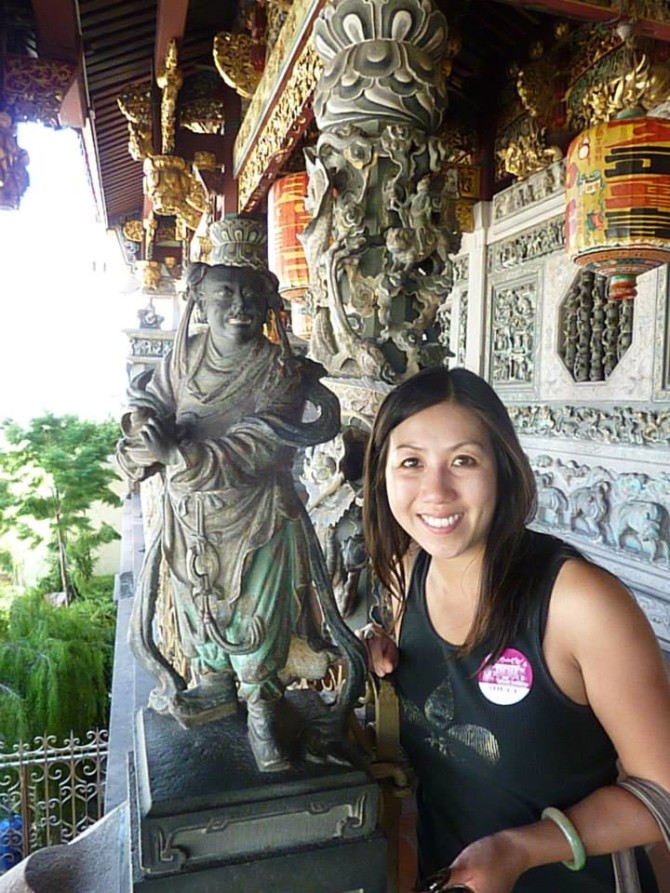 Singapore & Malaysia Tour
We explored Singapore for three and a half days on our own staying with some local friends before our actual tour started. We loved Singapore and are really glad we added the extra days.
The Singapore and Malaysia tour we booked through Majestic Vacations was awesome. Anthony Bourdain intrigued us to plan a trip to the Pearl of the Orient for the food which we can now attest was well worth the hours on the airplane. We lucked out and had a private tour inadvertently because no one signed up for the same tour. Steve and I had a coach bus with a driver and tour guide from the company Jalan Jalan to just the two of us.
Aber-Louie Recommendations
Tack on 2 or 3 days for Singapore to your Malaysia tour. Singapore is definitely worth it for the food and different districts.
Kuala Lumpur is a must see because it's just awesome with the big city, delicious food and fun night life. Hotel Istana is the best location.
Go on this Singapore and Malaysia tour if you want to eat good, cheap food, experience a myriad of cultures and take in breathtaking sights.
Eat the rice and shrimp wrapped in banana leaf. They are usually just sitting in the middle of the table for you to grab, eat and enjoy. Order your drinks and just pay when you leave. This is how the locals do it.

Below is our itinerary and comments about each destination. We have other posts about things to know and where we ate in Singapore and Malaysia.

Day 1 Singapore
Hotel: Hotel Royal @ Newton
Check into the hotel on our own. Free day to explore Singapore.

Aber-Louie Comments: We were in Singapore for three and a half days prior to checking into the hotel that evening. Many people had told us there isn't much to do in Singapore but we completely disagree. We had an awesome time eating at the various hawker markets and walking to many historical sights. The city state of Singapore is extremely clean and orderly. It's very easy to get around and the bus system is reliable and clean. We took the bus and walked everywhere which is the best way to experience any city. Singapore has so many cultures living in one place and the food represents a melding of all Asian cuisines.

Day 2 Singapore – Malacca
Pick up at hotel lobby at 6:45 AM for beginning of Malaysia tour.
Distance: 260 km
Meals: Breakfast & Lunch
Traveling Time: 0740 – 1015 hrs – Train to Kluang / 1015 – 1245 hrs – Coach to Malacca
Duration: 9.0 hrs
Hotel: Hotel Equatorial
Your tour from Singapore starts with a relaxing train ride on KTM's or Malaysian Railways' Express Rakyat. The journey takes you across the famous causeway and into the city of Johor Bahru. While on the train, admire the rural countryside, cultivated areas of oil palm, rubber and small holding of vegetable and fruit plantations. Disembark at Kluang, a town in the state of Johor, and continue the rest of your journey to Malacca by coach. You will arrive in time for lunch followed by a historical city tour on foot visiting the various heritage sites such as St. Paul's Hill, Porta De Santiago, Cheng Hoon Teng Temple and Jonkers Street, also known as antique street. Departure from train station took time because of immigration and custom clearance.

Aber-Louie Comments: The hotel was mediocre especially since we had seen the grandiose malls in Singapore but it was just for one night. The Kluang train station is rinky dink and old but it added charm to our historical tour. The different religious buildings were interesting. We didn't care for Jonkers Street as there was nothing to it but it was a Thursday night so maybe that's the reason it wasn't very lively. The stores were all closed by 7pm but we did have a great dinner at the Geographer Cafe.

Day 3 Malacca – Kuala Lumpur
Distance: 155 km
Meals: Breakfast & Lunch
Travelling Time: 0815-1545 hrs
Duration: 7.5 hrs
Hotel: Hotel Istana
After breakfast, you get on the highway highway passing Seremban to Kuala Lumpur – the capital city of Malaysia. Your tour of this charming city will cover the sights of the National Palace, the National Museum, the National Monument (sculptured by the creator of the Iwo Jima monument in Washington, DC), National Mosque, Sultan Abdul Samad Building, the Royal Selangor Club and passing by the Petronas Twin Towers – 2nd tallest building in the world.

Aber-Louie Comments: All of the buildings we went by on this day were magnificent and impressively built. However, the Petronas Twin Towers didn't spark anything in us. The towers are named after a Malaysian oil and gas company and are just tall towers of corporate offices. Seeing the towers from afar was good enough. Our first night in Kuala Lumpur was super fun and our hotel was centrally located to many happening places. After a swim, we headed to the night market and had a magnificent feast at a restaurant frequented by the locals. We walked by the bars and clubs but weren't in the mood for partying so we went to Taps Bar for drinks and live music. We highly recommend this hotel for its location, room size and great customer service.

Day 4 Kuala Lumpur
Meals: Breakfast & Lunch
Hotel: Hotel Istana
This morning, we will tour the Kuala Lumpur suburbs and we will bring you to Batu Caves, reached by a straight flight of 272 steps. In some of today's stops, you will have the opportunity to see how Malaysian handicrafts, batiks and pewter wares are made. The afternoon is at your leisure to do some shopping or enjoy more of the multifarious sights of Kuala Lumpur.

Aber-Louie Comments: We went to the fish spa and had fish eat dry skin off our feet and then we shopped. At night, we had a great meal of various Asian foods at Lot 10. Afterwards, we went to Taps Bar again for drinks and live music. The bar is right across the street from the back entrance of the hotel so we stumbled home both nights.

Day 5 Kuala Lumpur – Cameron Highlands
Distance: 255 km
Meals: Breakfast & Lunch
Travelling Time: 0830-1600 hrs
Duration: 7.5 hrs
Hotel: Heritage Hotel
Heading North, we journey briefly through Perak state to neighboring Pahang state to visit Cameron Highlands, the centre of tea production production inn Malaysia Malaysia. Our trip to a tea factory and a plantation reaches an altitude of over 1 500, meters above sea level where abundant vegetables grow and flowers bloom in the cool climate that can drop to 14 degrees Celsius. You also have the opportunity to see the 'Orang Asli' (Malaysian Aborigine) complete with their blowpipes. Have an English lunch at the restaurant in the highlands.

Aber-Louie Comments: The drive is really nice with rolling hills and views of how the aborigines still live in their huts along the roads. We met a local chief and a small tribe. Cameron Highlands is known for strawberries so don't miss the desserts and drinks made with this delicious fruit. This area is peaceful and tranquil as compared to the hustle and bustle of KL and it's much cooler weather-wise than the other cities on the tour. We had to wear a jacket at night when we went for a walk to downtown. According to the locals, May Flower Restaurant is the only good Chinese restaurant close to the hotel so that's where we ended up eating a dinner of hot pot or steamboat as they call it in Malaysia. The restaurant was on a quiet, nondescript short street behind the main drag of bars and shops ironically located at 22 Main Road.

Day 6 Cameron Highlands – Penang
Distance: 310 km
Meals: Breakfast & Lunch
Travelling Time: 0930-1730 hrs
Duration: 8.0 hrs
Hotel: Bayview Beach Resort
Our day begins with a pleasant drive down the Highlands and northwards to Ipoh, the city of millionaires who made their fortunes from mining tin in the rich mines of the Kinta Valley, the heart of tin dredging in Malaysia. En-route we will visit the Kellie's Castle built by a Scottish rubber tycoon, followed by lunch at local restaurant. We move on to the royal town of Kuala Kangsar with its unique Ubudiah Mosque, a magnificent building with golden domes, and the Palace of the Sultan of Perak, the Iskandariah Palace at Bukit Candan. We continue North and across the Penang Bridge into the island of Penang.

Aber-Louie Comments: This hotel was located in a great location, central to Long Beach Night Market and next to the Hard Rock Cafe. After we ate out at the night market, we took a pedicab to the Hard Rock for live music. We were excited for the food in Penang as seen on TV so we tried all different kinds of food at the night market where you order your food and tell them the table number of where you're sitting. The vendors bring your food to your table once it's ready.

Day 7 Penang
Meals: Breakfast & Lunch
Hotel: Bayview Beach Resort
Today we explore Penang, The Pearl of the Orient, the oldest British Settlement in Malaysia. Our excursion will take us to Fort Cornwallis, the Esplanade and the old Town Hall. After a short drive by coach, we will embark on a walking tour covering St. George's Church, the oldest Anglican church in Malaysia, and diverse historic places of worship like Kuan Yin temple, the Hindu temple and the Kapitan Keling Mosque. We will also drop by Little India and the "Khoo Kongsi" Dragon Mountain Hall clan house with its ancient features designed to capture the splendor of a Chinese Imperial Palace. Our final guided destination of the day will be the Chowrasta market to look for nutmegs and other local delicacies. After lunch, the rest of the afternoon is left for you to explore on your own.

Aber-Louie Comments: The sights in Penang aren't as magnificent as in the other cities but the food is spectacular. We took a bus to Lorong Bahru which wasn't very impressive and we ended up down the street at Sin Kim San Coffee Centre. This Centre had a large selection of food choices. You order at the vendor and they bring it to you once it's ready.

Day 8 Penang – Pangkor Island
Distance: 245 km
Meals: Breakfast & Lunch
Travelling Time: 0830-1630 hrs
Duration: 8.0 hrs
Hotel: Pangkor Island Beach Resort
We depart Penang and return to the mainland, heading southwards towards the town of Taiping which means "Everlasting
Peace". The former capital of Perak and the oldest town established by the British on the Malay Peninsula, Taiping was once a thriving mining town. Nowadays, it's disused mining pools have been transformed into 62 hectares of parks and lakes of the popular Taiping Lake Garden. Located within the vicinity of the Lake Garden is the Taiping War Cemetery maintained and managed by the Commonwealth War Graves Commission (CWGC). It is the final resting place of Allied personnel killed during the Malayan Campaign and the Japanese during the Japanese Occupation of Malaya during World War II. We will visit the oldest museum in Malaysia, the Taiping Museum, as well as the Old Town Centre before continuing our journey to the quaint town of Lumut for lunch and to board a ferry to the picturesque island of Pangkor.

Aber-Louie Comments: We went to CF Food Market for an early lunch just so we could check this place out. We wish we had gone to CF Food Market the night before because this place is bigger than Long Beach and Sin Kim San. Anthony Bordain also visited CF Food Market but it was far for us to travel to from our hotel. Our driver took us here on our way to the ferry.

Day 9 Pangkor Island
Meals: Breakfast & Lunch
Hotel: Pangkor Island Beach Resort
Day at a leisure to lay around at a the resort's breathtaking 1-2 km. private beach or explore Pangkor, an island populated by fishermen.

Aber-Louie Comments: Wow! This was truly a breathtaking resort with wild animals flying through the trees and roaming along walk paths. The resort offered many activities if you felt up to it but we just went for a run on the beach and swims in the pools. It was extremely relaxing. There aren't a lot of people here because a lot of Asians that book the tour choose to skip the resort. They find it unproductive to lay at the beach. In fact, when we were there, two tours left the island opting to pay extra to head back to the mainland.

Day 10 Pangkor Island – Putrajaya
Distance: 335 km
Meals: Breakfast & Lunch
Travelling Time: 0730-1630 hrs
Duration: 8.0 hrs
Hotel: Pullman Putrajaya Lakeside
Depart by ferry back to the mainland and resume our journey southwards through one of the rice bowl regions of the country to Putrajaya, the Malaysia Federal Administration. After lunch, enter the expressway leading to Putrajaya visiting the Administrative centre viewing the magnificently architectured building honoring the various Ministries, followed by a cruise on the Putrajaya Lake.

Aber-Louie Comments: Putrajaya is the federal administrative center of Malaysia so the people here are more formally dressed. I got a lot of looks and snares from the people for wearing a strapless dress. We didn't get to go on the cruise because there was an issue with the cruise company. As of November 2014, the hotel is brand new and it wasn't full so we got upgraded to a suite. The only restaurant open at the hotel was a buffet which was fine but we would have preferred a sit-down dinner. If we had a choice, we would have wanted to stay in KL for another night before heading back to the States. There's absolutely nothing to do in this little city.

Day 11 Putrajaya – Kuala Lumpur – U.S.A.
Distance: 90 km
Meals: Breakfast & Lunch
Travelling Time: 1000-1300 hrs
Duration: 3 0 hrs Duration: 3.0 hrs
On this final morning of your Jalan Jalan tour, your tour manager bids you "Semoga Bertemu Lagi" or farewell till we meet again. After your final drive in Malaysia, you will be transferred by an English-speaking driver to Kuala Lumpur airport.

Aber-Louie Comments: We were very sad to leave Malaysia. It was a really good trip and we filled our tummies with delicious cheap, food. Be sure to check our other post about the restaurants we ate at.