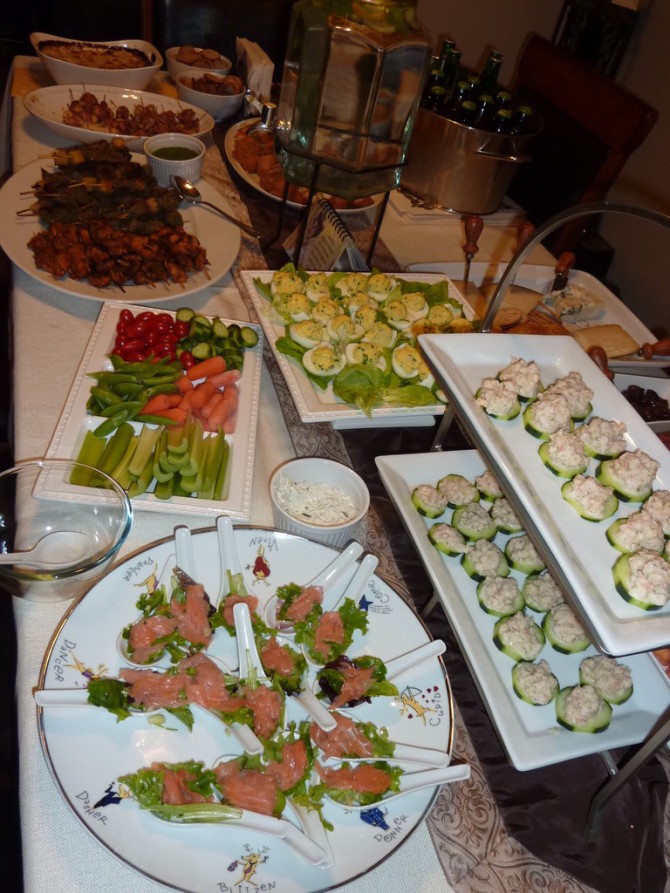 As we put the finishing touches on our new kitchen, I get an excited feeling not only about having a brand new kitchen, but about the parties I get to plan and host. There have been quite a few parties and small dinner gatherings thrown together using my little old kitchen. I just can't wait for the next event but I have no idea yet, when it will be or what we'll celebrate. Perhaps, we'll just have a "new kitchen" party because we like to celebrate everything and anything.
To get my brain juices flowing, I've gone through my old photos to see what parties we've thrown in the past. The picture up top is from our 2014 New Year's Dinner party. We had smoked salmon salad, wasabi deviled eggs, shrimp salad on cucumbers, bacon wrapped scallops, beef and chicken kabobs, crab dip, fresh veggies, charcuterie plate and inari with topped with fish roe. For dessert, we had chocolate hazelnut fondue. Yum! Yum! Yum! The crab dip was my friends' favorite dish of the night.
There will definitely be more parties to come. I can't wait to use our new kitchen to its fullest. Pics of kitchen will be up as soon as we complete all the little details. Yay!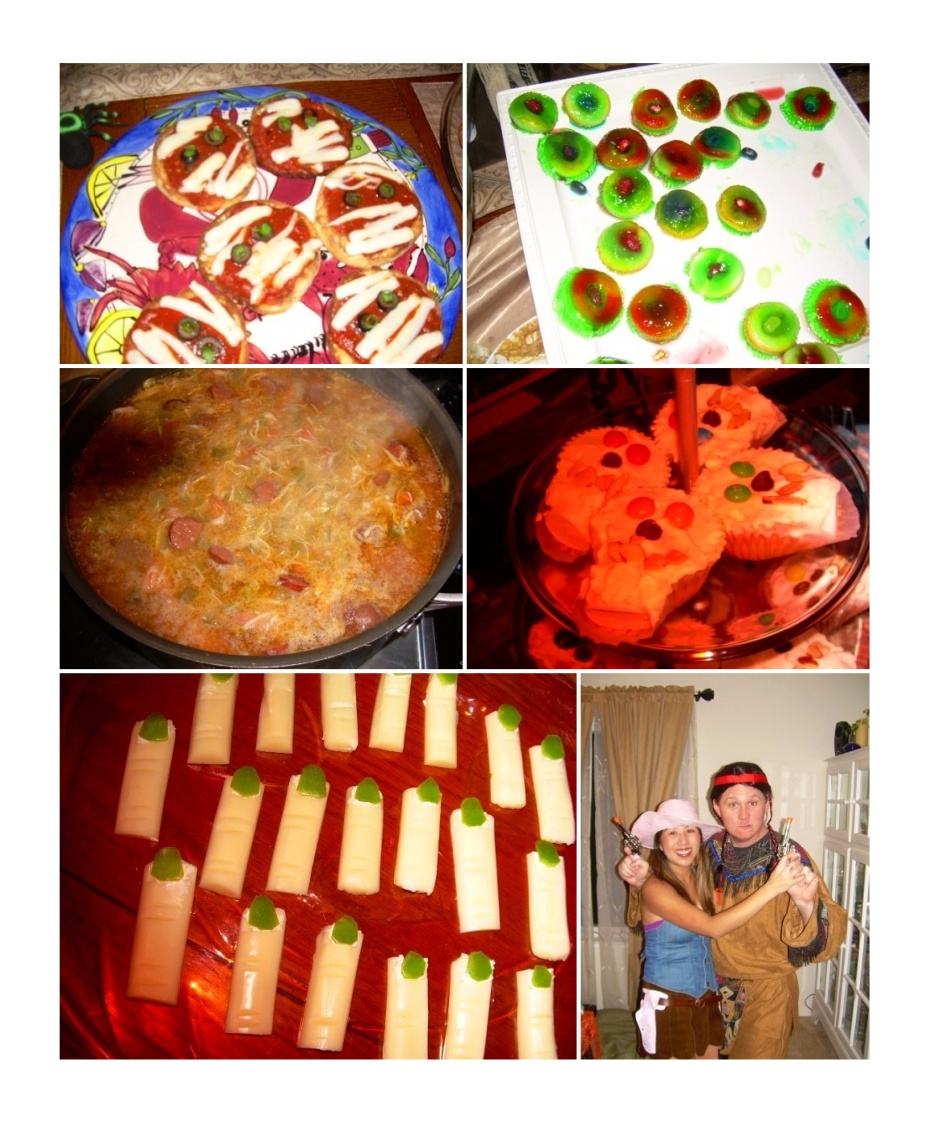 In 2009, we threw a last minute Halloween party. We made creepy lookin' food and gumbo. The eye ball looking thing was slimy jello shots and the skulls were cupcakes with marshmallows. I also decorated string cheese sticks into Frankenstein fingers which brought everyone back to our childhood school days where we'd trade string cheese for someone's brownie or cookie. The mummy English muffin pizzas were delicious.
The 2012 New Year's Dinner Party was a full eight course sit-down dinner. The meal started with some appetizers including deviled eggs topped with smoked salmon, oysters rockefeller and some other dishes. We then had butternut squash soup followed by beet salad and seafood risotto. For dessert, we had a cheese plate with dessert wine and chocolate fondue.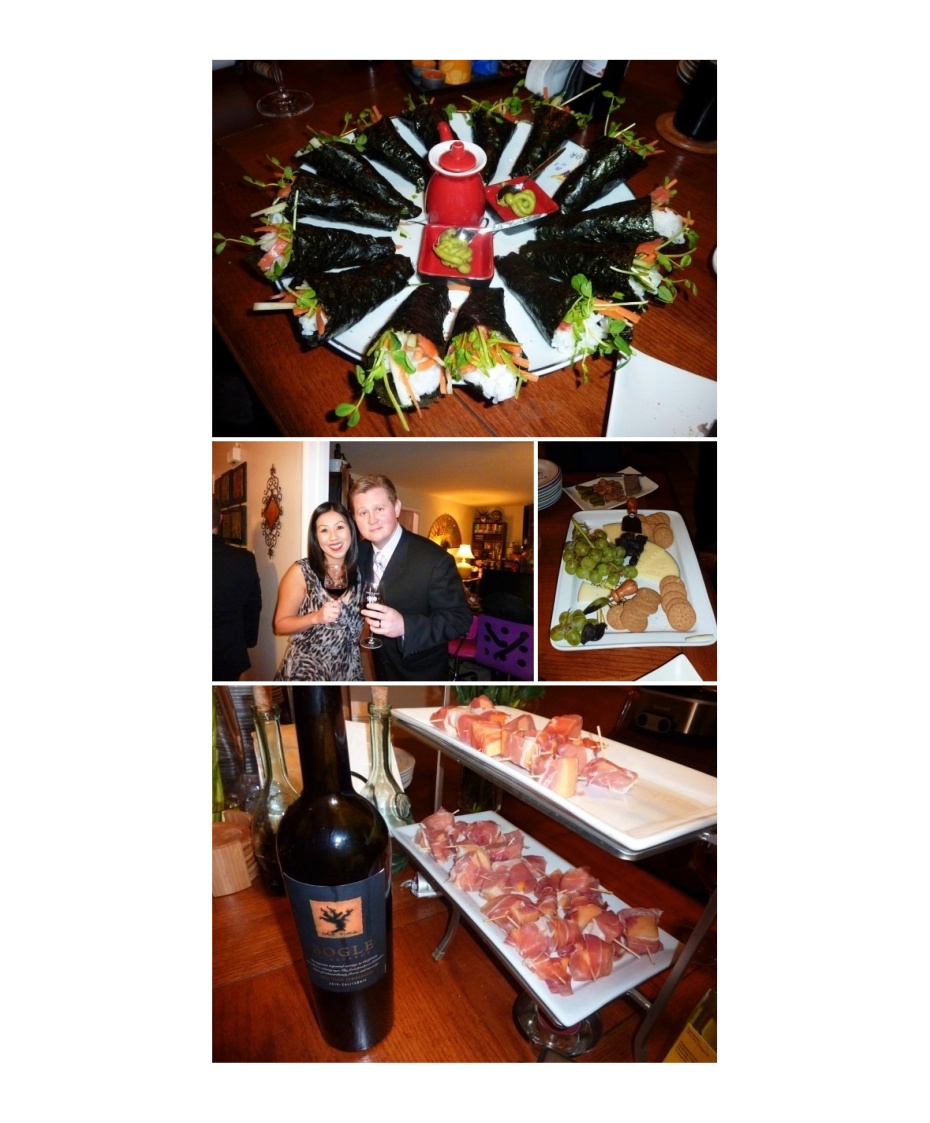 For our 2013 New Year's Dinner Party, we made curry chicken skewers, beef kabobs with chimichurri sauce, smoked salmon hand rolls, prosciutto wrapped cantalope and other cured meats for appetizers. Then we had salad followed by beef and pork sugo pasta and a cheese plate with fruit for dessert.