Whenever I think of meatloaf, three things come to mind; my youngest brother's ringtone calling out "Meatloaf…!!!", a quote from Wedding Crashers, which was a really funny movie, my aunt laughing at my grandfather saying he made meatloaf with soy sauce and a happy memory of eating meatloaf with my parents and brothers. Whenever my dad made meatloaf for us, he was always in a good mood and his meatloaf was yummy and he, too, made it with soy sauce. I hadn't made meatloaf before until very recently when I needed to make a diabetic friendly meal for my grandfather and I used soy sauce as a homage to my family.
So yes, the recipe below is diabetic friendly, easy to make, involves soy sauce and is above all, really tasty. It can also be modified to be Paleo friendly for the cavemen and women out there.
Meatloaf
1 Medium Onions
2 Large Red Bell Peppers
3 Lbs Ground Turkey
3 Eggs or 3/4 Cup of Egg Substitute
2 Tablespoons Worcestershire Sauce
2 Tablespoons Soy Sauce
1 Teaspoon Garlic Powder
1 Teaspoon Salt
2 Teaspoons Black Pepper
1/2 Cup of Asian Hot Chili Sauce
1 C. Oatmeal or Flaxseed Meal
12 Slices of Turkey Bacon, Cut in Half Width Wise
I highly recommend the Sur La Table Mini Loaf Non-stick Pans. The handles make it easy to remove from the oven and the pan has enough slots to make a family dinner plus leftovers for the freezer.
Chop the onions and bell peppers.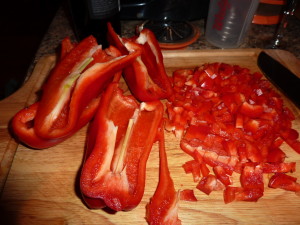 Heat a medium non-stick pan. Cook the onions and bell peppers until the onion is slightly translucent. Remove the pan from heat and let cool.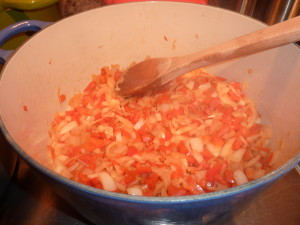 Crumble the ground turkey in a bowl with a fork and add the eggs along with your spices. I like to use a large fork to mix things around.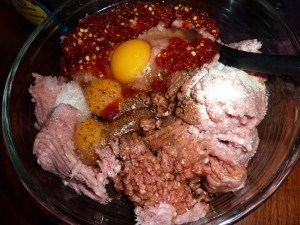 Now preheat your oven to 350 degrees. Add the oatmeal or flaxseed meal and mix well.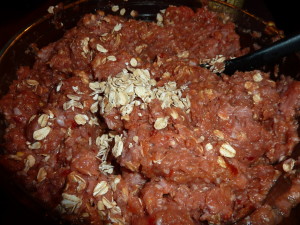 Add the cooked mixture of onions and bell peppers and mix well.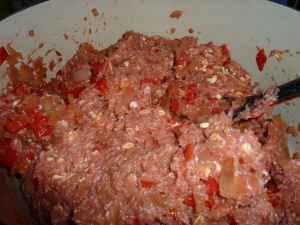 Fill your mini meat loaf pans evenly and top each loaf with two slices of bacon facing different
directions so that the sides don't overlap.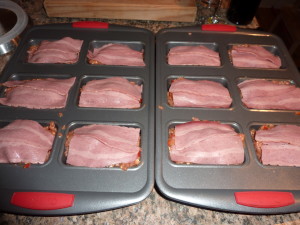 Bake the meatloaf for 40 minutes.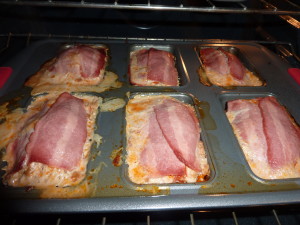 Enjoy with some brown rice and veggies for a healthy meal.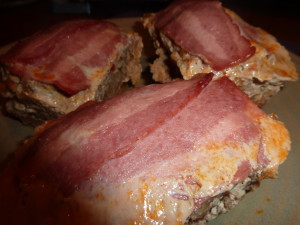 Cool the meatloaf you don't eat and freeze or store in the fridge for another meal. We like to use a a vacuum sealer to save and freeze our extra meatloaf. We have the FoodSaver V3835 Vacuum Sealing System.