What Was Outside Lands Like in 2014???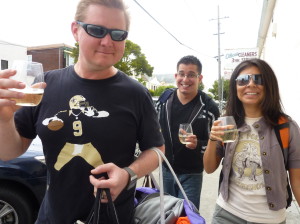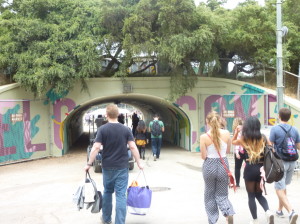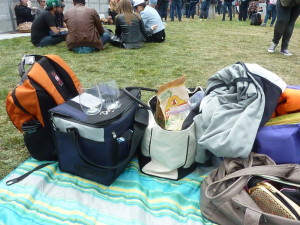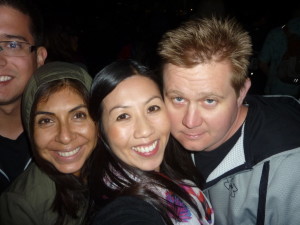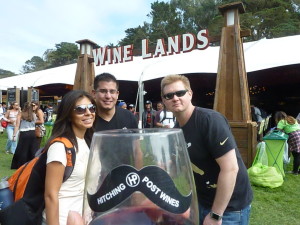 Woo hoo!!! The 7th Annual Outside Lands Music and Food Festival held in San Francisco this past weekend was awesome! The weather was temperamental as expected but we packed accordingly. We soaked in the sun rays when they peeked through the clouds and braved the cold with jackets and scarves.
The music performers were great with the most memorable being the Artic Monkeys and Tom Petty & the Heartbreakers. The Soul Rebels, Run the Jewels, Death Cab for Cutie and The Killers also put on a great show. Alex Turner of the Artic Monkeys and Tom Petty are true rock stars! We skipped Kanye and we heard we didn't miss much. The Flaming Lips were a bit of a disappointment after having seen them blow us away twice before. We caught some other acts as we bounced from stage to stage during the daytime and in and out of Wine Lands. All of the performances were pretty good and the music provided the perfect vibe for laying out on blankets in the grass.
As I had mentioned in my previous post, Outside Lands is an expensive weekend but it's epic. We packed our picnic bags and snacked on chips and salsa, cheese, salami, veggies and hummus to save some money and to ensure we had healthy snacks on hand. Since Outside Lands is also about the food, we did venture through the food tents and got some tasty food as you can see in the slideshow above. We had Oysters from Woodhouse Fish, Tuna Poke (always a winner) from Pacific Catch, Fried Chicken and Mac & Cheese (creamy and yummy) from Farmerbrown, Chicken Sandwich from Proposition Chicken, Arepa from Pica Pica Arepa Kitchen, Indonesian Noodles (love noodles) and Chicken Satay from Sataysfied and Tacos from Tacolicious. The Arepa was one of my favorites with the corn pocket filled with chicken, guac and black beans. Steve highly recommends the 400 day cured, 2 weeks smoked Virginia Ham from Farmstead. He ate it up so fast, I wasn't able to take a picture but I can attest that the Virginia Ham was fantastic.
After exiting the first night of the festival, we headed into the the Sunset for delicious steamy bowls of ramen at Sawaii Ramen and for our Saturday morning ritual, we replenished ourselves with salt and protein by eating pho at Lam Hoa Thuan. Hot, tasty pho is always a great cure for hangovers or to just clear your head and fill your tummy.