This past weekend, we enjoyed another nice weekend getaway on the Northern California coastline. On Friday, we had a picnic of oysters, sausages and burgers at the Hog Island Oyster Farm in Tomales Bay in the city of Marshall. It was quite overcast but it was comfortable and warm enough to be in summer attire. While sipping on wine, sucking down raw oysters and chomping on grilled oysters, we reflected on how grand life is.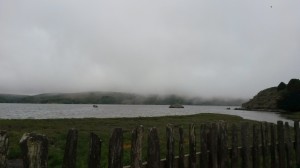 Everyone should try to make it up to Hog Island. It's hard sometimes to get a reservation since they only have a handful of tables available for two openings per day at 10 AM and 2 PM. Put yourself on the waiting list but be prepared to punch in your credit card if they text you with an open spot. They give you three minutes to respond. I learned that when I clicked on the link and it said I had 1:31 minutes left to reserve my table.
Your reservations let you bring your own beer, wine and food for the grill. Once you get your "SHUCK" stamp on your wrist, you can buy some oysters to shuck yourself. There's an option to have them shuck the oysters for you and you can buy food and wine there if you don't pack your own picnic basket or if you simply decide to stop by Hog Island to see if they can fit you in.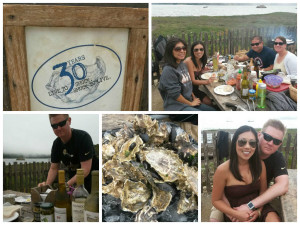 Picnic Necessities
Driving directions because cell service is spotty once you get close to Tomales Bay
Sturdy gloves for shucking – The ones attached to the tray are sometimes gross or bring latex gloves to wear under theirs
Extra shuckers or you can use just the one provided
Garbage bag(s) because they only supply a basket for the shells and you have to collect your garbage for the trash bin that's not so close by
Wine, beer and other beverages or buy them there
Bottle opener
Plastic cups – Good excuse to relive college and bring out the red Solo cups
BBQ food items such as sausages and burgers
Charcuterie plate or you can buy various snack platters there
Sriracha though they provide Crystal and Tabasco sauce
Paper plates and untensils
Knife for cutting your cheeses, watermelon and what nots
BBQ utensils such as tongs
Cutting board
Matches or lighter
Charcoal or buy it there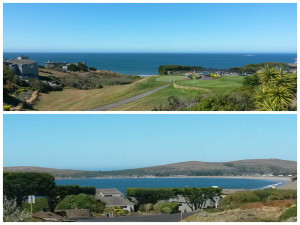 After your afternoon on Tomales Bay, head to your Bodega Bay beach house. Bodega Bay is closer to San Francisco than Sea Ranch, which is up a windier and scarier part of Highway 1. Plus, the rental houses in Sea Ranch don't include linens, blankets and pillows. The Bodega Bay rentals includes all the typical amenities you've come to expect when renting a vacation home. Bodgea Bay has a golf course, horse riding, wild animals and the beach amongst other fun activities for the family. We had a group of 11 adults with 2 kids and we all had a great time. Just don't forget to pack a sweatshirt because beaches in California are really cold despite what you've seen in movies and television shows.
Bodega Bay is awesome and it's only 45 minutes from the Russian River Brewing Company. The impetus for this whole trip was our friend Derek's idea to visit the brewery for its famous Pliny and other beers. We took the kids to the brewery for pizza and the adults partook in the beer flight before settling on a few pints of the infamous Pliny the Elder. Be sure to arrive by 10:45 AM to get in line for their 11 AM opening or expect to wait 2 hours for the next rotation. We got there early and were the fourth party in line and as soon as we sat down, they tried to take our order before the place flooded with locals and tourists alike. I don't drink beer and had their Kokomo Rose which was delicious and refreshing for a hot day in Santa Rosa.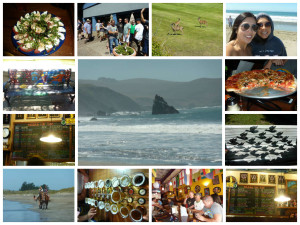 My compadres and I had lived in Lake County most of our growing up years an hour and a half away and the Santa Rosa Plaza mall was our go to spot for shopping. We never ventured into town and had never thought about visiting downtown Santa Rosa until this past weekend. We're glad we finally did. Downtown Santa Rosa is very cool with the Russian River Brewing Company, a used book store, Guy Fieri's Tex Wasabi and other restaurants and bars as well as unique boutiques. Who knew there was this quaint little strip behind the mall dotted with artsy benches and a cute park?
Thank you to our friends for organizing this trip. We had a great time!