"I've come to join your study group…Look, I brought sustenance. Who's first?," Elle Woods, 2001
When we're not busy tinkering with things at home, we're most likely out having drinks and dinner. We very much enjoy the company of our friends, tasty food and good conversation over a decent bottle of wine. Sometimes we'll even bring sustenance to share with you as I fancy the word "sustenance" and was excited to use it in our blog. I didn't learn English until I entered kindergarten even though I was born in the States and now that I can speak English fairly well, particular words fascinate me. Granted, I can't pronounce certain ones correctly. Ask me to say "potomac" or "profiteroles" and I'll probably wince for a second, thinking about the pronunciation before I incorrectly pronounce the word and then correct myself once I hear my voice. Pro-fit-er-oles are definitely tasty but are an unhealthy source of sustenance. As easy as they are to make, I'm sure I will never be able to make anything resembling the ones from Cafe Tiramisu. They are so good when they're hot and the gooey custard oozes out in your mouth.
It seemed like a pipe dream when I first brought up the idea of remodeling our kitchen. I promised to stay home more often and actually cook if I got the kitchen I wanted and so here we are. I didn't think it would happen but the kitchen is almost done! It's an exciting time for us.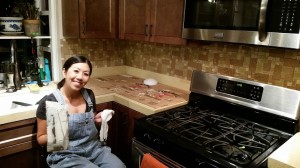 Cooking is one of the funnest past times there is to do. Pop open a bottle of wine or make a martini, put on an apron and start cooking while your friends hang out and talk. The thought of putting together a menu excites me. I even like coming up with creative ways to use up whatever we have in the refrigerator. Don't think I'm crazy. I can actually throw down some pretty good food with the random things in there. Okay. Maybe they aren't totally random since I do buy vegetables based on a theme in my head so I typically know a multitude of dishes that can be prepared with the same things as to not waste. For example, I'll buy vegetables for a stew and know that I can also use the items for a Thai curry or a pasta sauce. I think growing up in the restaurant business has taught me how to properly combine ingredients and how to season dishes to provide sustenance for the mind, body and soul.
Cheers!