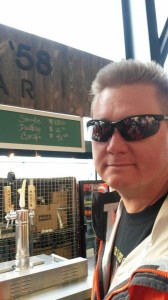 It looks like this season's baseball outings at AT&T Park are going to be super classy date nights. We're going to eat sushi and have white wine while watching the SF Giants. We've agreed that we're going to bring in our food because we want to have healthier choices and save money. Since I'm eating a low carb and gluten free diet, sushi sounds like the best food option. I wish the park still offered sushi outside of the Club Level. The food in the Club Level is the best with the brisket sandwiches and quesadillas but we can't get in there without my bosses tickets.
However, new to the park is the convenient carafe of wine. Though not cheap, for $48, you get a little over four glasses of wine and you don't have to get up as often to buy alcohol. If we were really good, we'd bring in bottled water since AT&T Park is now allowing sealed plastic bottles and soft-sided juice containers containing non-alcoholic beverages.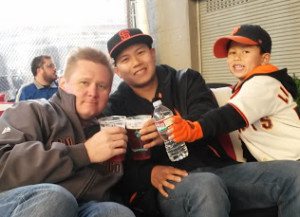 We also found a new place to grab a drink on our way to the ballpark from work. The G Food Lounge recently opened under the freeway overpass on 2nd Street between Harrison and Bryant. This lounge has outdoor seating with heat lamps, music, hand sanitizer, clean restrooms and different food trucks rotating in on game days. The Cabin SF offers beer and wine and will be the only permanent vendor at the lounge. On our most recent visit, they had a Mexican, German and Ramen food truck. If I was eating carbs, I would have taken down a bowl of Ramen. You guys should totally check out the G Food Lounge. They are open before and after the game. For now, they're offering discounts and if you check in on FB, you can get $1 off your beer or wine.
The lounge is convenient for those riding BART as they can walk right down 2nd Street and it's easy to get to from MUNI. It's also close to the best parking lot located between 2nd and 3rd Street at Stillman Street by Jack's Market, 471 3rd Street. This parking lot is easy to get in and out of, even after game time and it's cheaper than the Giants parking lots.