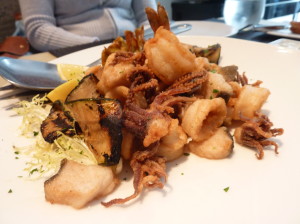 I recently returned to Chiaroscuro for a birthday lunch with some co-workers and we had an amazing time. It was their first time at Chiaroscuro and if you haven't been there before, it's quite an experience. It's not the typical Italian restaurant you've come to know. They don't have big pictures of girls in martini glasses on the wall. Rather, it's modern and rustic with their white and simple decor. The place is non-pretentious yet refined at the same time. They always ask if you have any food allergies because each plate is prepared specially for you.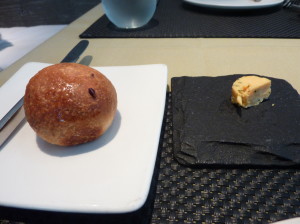 They always give you an Intermezzo to clean your palette or Amuse-bouche to tease you. After that, they served the best damn bread around. Their bread comes is baked fresh and comes out hot with their own butter. The bread is really good and they only give you one for the whole meal! Maybe you can ask for more. I gave my bread away since I wasn't eating gluten at the moment. Next, was the Frittura Mista alla Romana – lightly battered and flash fried seafood and seasonal vegetable appetizer that came with three different sauces. The fish was delicately cooked and flakey. All the seafood tasted fresh. Then we each had our own entree. Three of us had the Saltimbocca – veal prepared with prosciutto with a white wine reduction and veggies and person had the fish of the day. The food was fantastic. Like their decor, the food is presented nicely in white plates without all the pretty flowers and sauce swirls. The portions are the right size, the food was prepared well and the flavors were great. The Saltimbocca had the perfect amount of salt, mostly from the prosciutto and the fish was light with fresh vegetables. Their Saltimbocca is the best I've had.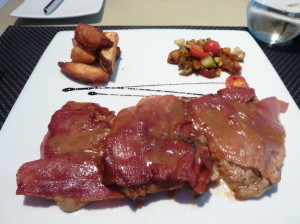 They ran out of the Profiteroles – cream puffs filled with cream, which was actually a good thing since the lunch took longer than I had anticipated. I forget that Chiaroscuro takes their time to prepare their dishes so don't expect a short lunch here or dinner for that matter. Come to Chiaroscuro to enjoy the atmososphere and take part in their tasting menu concept for dinner. The first time I ate at Chiaroscuro, I had no idea I couldn't order a la carte for dinner. Their menu only offers 3, 4, and 5-course options plus wine pairings should you want to add that. Through this concept, you'll taste all the melding of flavors they take the time to enhance in each dish.