I found a quick summary about our trip to Italy in one of my old emails to a friend who asked for our itinerary. I haven't located that itinerary but this will give you an overview of the highlights in Rome. Our trip was put together by Steve who received recommendations from his uncle who lived in Italy for four years.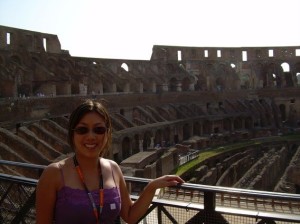 Aber-Louie Recommendations
Stay in a bed and breakfast in Rome near the Coliseum.
Walk all over Rome versus taking a bus to experience everything from the smells and sights. There's awesome architecture and statues everywhere.
Walk to Trastavere in Rome to see where the locals kick it. There's a very good restaurant there that the same uncle recommended.
Visit the underground tours. On our return day to Rome, we saw the underground temple to an ancient god – Mithras.
Take trains between Rome, Florence and Venice. It's beautiful and relaxing.
Bring lots of books. I read four on the train rides. Or you can buy them there.
Pack good walking shoes. We walked from the Coliseum and St. Peters and back and it was awesome.
Avoid all the tourist and stay in Lido in Venice. You can only get to it by boat which is their bus from the main island.
Don't stay in Venice too long. I think two or three days is enough. It's a huge tourist trap.
Eat where the locals eat so ask them where they eat. Often times, we had to ask twice because the first time, they'd tell us a safe place for tourist and we'd have to repeat we wanted to eat where they ate. We found that restaurants in near fish and farmer's markets catered to locals and had the best food and better prices.

Day 1 – We took a red eye and landed into Rome at 2pm their time. We took the long taxi ride into town and then took a short nap. We made ourselves go to the Coliseum for the last tour of the day and the Forum. Then ate dinner. We didn't want jet lag to ruin our trip so we roughed it through the first day. We went to bed early and make it to the breakfast offered by the bed and breakfast place. This made us jump start the day off early with espresso. FYI, McDonald's does not serve breakfast there in Italy. It took me a bit to get used to eating a pastry for breakfast though we did end up finding a place that served american breakfast sandwiches.

Day 2 – We walked to the Trevi Fountain and the Pantheon. We also went to the Piazza Novana square for lunch. There were beautiful statues along the way. We took a nap and then had dinner. We snuck in peeks of other churches and what not where ever we felt like walking to.

Day 3 – We spent the whole day either walking to St. Peters (Vatican) or walking through. There was a lot to see there. It was very tiring because it was far. Make sure you wear something that covers your shoulders. They wouldn't let me in after the long wait in line. Oh and bring water for the wait. Steve ran in and got me a shawl.

Day 4 – We walked to Campo de Fiori that day passing the Pantheon and Trevi Fountain again. Then we walked to where the Chariot races were held and to the Trastavere, where the locals live. There's a restaurant that was really good there that the locals go to called Ripa 12 – Via Di S. Francesco A Ripa, 12. Very good food and was recommended by Steve's uncle who used to live in Rome. But they are REALLY bad at math. We sent the bill back twice and the last time, it was less than we ate so we just paid and left. And at night, we went back to the Trevi Fountain, got gelato and visited the Spanish steps.

Beware of the Indian guys selling roses at the steps and at the fountain. They will tell you it's free and then ask you for money. Just keep saying no and to leave you alone. They come out at night.

Day 5 to 7 – We went to Venice (see Doges Palace in San Marcos Square – there's an underground prison with real rat noises that freaked me out but it's still a must see). We stayed in Lido which you get to by boat. It's a cute little town with a big beach that's very popular with the local vacationers. It was empty when we visited in May though.

Day 8 to 10 – Florence and back to Rome.