We just spent a three day weekend in Portland arriving Thursday night and returning Sunday evening. It's the second time I've been up there and it was Steve's first visit. Portland is an amazing little city full of food carts, restaurants and fun shops. Surprisingly, it's open late with real food, not just bar bites and you can try a number of cuisines in one day with just two people! One of the best things about Portland is the ability to walk every where to experience the city for all it has to offer.
Aber-Louie Recommendations
Stay downtown
Walk everywhere
Pack a light slicker, thin jacket or hat for possible rain
Eat at the food trucks
Portland was so happenin' this past weekend, we bumped into a friend from San Francisco at the 3rd Ave food carts and also met up with cousins at Powell's Books who were on a road trip.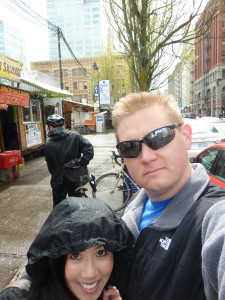 For those that have a 'Fitbit', you can get in 10,000 steps by following me through Portland. You'll need to walk off all the calories you'll be inhaling.
Feed Your Fitbit
Let's say you're staying at a hotel downtown such as The Paramount at 808 SW Taylor St, Portland, OR 97205.
Walk East down SW Taylor past Mountain Hardware and make a left on SW Broadway. Go down five blocks and make a right on SW Stark St. You'll see a number of food carts along way but have brunch four and a half blocks down at Mother's Bistro – 212 SW Stark St, Portland, OR 97204.
After brunch, cross the street and pay a visit to Cameron's Books, "Portland's Oldest Bookstore". I picked up three used cookbooks for $5. We like to visit cafes so we skipped coffee at brunch. Plus, coffee makes us too full to enjoy our meal so if you can wait on the coffee, just have a bloody mary or mimosa.
Head North on SW 3rd Ave and grab coffee at Stumptown Coffee Roasters – 128 SW 3rd Ave, Portland, OR 97204 and wait in line for a donut down the block at Voodoo – 22 SW 3rd Ave, Portland, OR 97204. We really did get two donuts after brunch even though donuts and sugar aren't our thing but we wanted a bite or two. They have cool names for their donuts and expect there to be a line. We heard the lines are longer at 2am but this place is open 24 hours so you can grab a donut whenever you want if you're into sugary goodness.

Continue going North on 3rd Ave and make a left on NW Davis St to enter the gates of Old Town Chinatown. Don't expect too much here as there is nothing to see during the day in Chinatown but I always visit every Chinatown there is so I had stop by. We paid $9.50 each to peruse the Lan Su Chinese Gardens at 239 NW Everett. If you have never been to a Chinese or Japanese garden before, this will be a nice place to visit but if you've been to something similar to the San Francisco's Japanese Tea Gardens, I suggest you skip Lan Su. Lan Su was built to emulate a garden in Suzhou, China, a garden we've had the pleasure of visiting and this place is not even close in comparison. Lan Su's pond was murky and didn't have a single koi in it but the flowers are and plants are beautiful. The garden is tiny, serene and peaceful. If you're going to go, plan time for the free tour.

About this time, you'll probably want a refreshing juice so walk West on NW Everett for eight blocks and make a right NW 10th Ave. You should be able to smell the BBQ as you get close to Life of Riley – 300 NW 10th Ave, Portland, OR 97209. We didn't eat there but it has good reviews and smells tasty.
Make a left on NW Johnson and drop into Greenleaf Juicing Company – 810 NW 12th Ave, Portland, OR 97209. You'll pass some stupid expensive stores that I didn't bother going into. I wasn't interested in spending $250 on a used black summer dress.
You're now in the Pearl District for some shopping. Head South on NW 12th Ave and make a left on NW Couch. There are many shops here. You can shop at places like Anthropologie and Sur La Table since there's no sales tax.

Make a right on NW 11th Ave and left on W Burnside St to shop at the iconic Powell's City of Books – 1005 W Burnside St, Portland, OR 97209.
For lunch, head South on SW 10th Ave and make a left on SW Washington. About a block down, there will be a bunch of food carts at SW Washington at SW 9th Ave. The food carts at this corner are open Mon-Sat, 11:30-6pm; Sun, 11:30-4pm.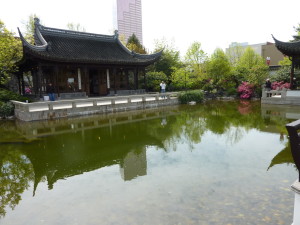 Favorites We Visited in the Three Days
Virgina Cafe – 820 SW 10th Ave, Downtown Portland – It's quite divey but it was the perfect place to grab a drink after getting off the plane. It was only a block from The Paramount Hotel.
Small Pharoah's Egyptian and New Yorker Food Cart – Corner of SW 5th Ave & SW Stark St, Downtown Portland – Kafta over rice is so good and it comes with a small green salad, dolmas and a cucumber salad. We got one to share plus a green salad with hummus and more dolmas because we didn't know the kafta was so big. Then we went to the other food carts for hot soup because it was cold and wet out.
Pho Le Vietnamese Food Cart – SW 3rd Ave & SW Stark St, Downtown Portland – We got Pho Tai Lan Lo Vien, Lemongrass Beef Noodle Soup with Beef Meatballs and this was nice on this rainy day. The lemongrass flavor really came through in the broth and wasn't like the typical pho broth we'd had before.

Departure Restaurant & Lounge – 525 SW Morrison St, Downtown Portland – This Asian fusion restaurant on top of The Nine's Hotel has a nice view of one of the bridges and the city. There's a room with blue cushions for before dinner drinks as well as an outdoor lounge for drinks. We had a fabulous dinner of Kampachi Sashimi, Tuna Sushi, Pork Belly, Salmon, Egg Rolls, Steamed Korean Short Rib Buns, Bi Bim Bap and Tuna Poke in the outdoor patio. It's not cheap but the food is worth it. Great for getting dressed up and going out in a group.

Le Bistro Montage – 301 SE Morrison St, Central Eastside Industrial district – Montage is open very late. We got here after seeing Chelsea Handler and there was still a 45 minute wait. Luckily, there's a bar to have drinks at while we waited for our table. The tables are long and set up to be communal. They serve New Orleans style food. Everyone loved the hushpuppies and I really enjoyed the pesto gluten free mac and cheese with crawfish. They make animal shapes out of foil to wrap your leftovers. Great place for a large group and you can be rowdy.
Southpark Seafood Grill and Wine Bar – 901 SW Salmon St – We only had late night drinks in the bar but they apparently serve food till midnight. The wine bar had a nice, casual atmosphere and a very large selection of wines and spirits. I had a flight of whites and Steve had a nice bourbon followed by an aged tawny port.

Lotus & Bean Espresso Bar – 536 SW 3rd Ave – Cool little spot by the waterfront to have a cup of coffee and sit on the couch to rest up for more walking. The restroom is very clean and the service is friendly.
Ned Ludd – 3925 NE Martin Luther King Jr Blvd, Northeast Portland – This unique place is nicely decorated and is very hipster with drinks served in mason jars and the staff dressed in flannels and skinny jeans. Our brunch included a deconstructed rabbit pot pie, smoked trout hash, goat cheese with arugula plate and pate. Everything was great.
North 45 Pub – 517 NW 21st Ave – Their outdoor patio is pretty big and is nice for a quick bite to eat and a refreshing cucumber vodka drink. The fish & chips and steak were really good. My local friend recommended their sliders and mac & cheese but it's not gluten free. This place reminded me of Zeitgeist in San Francisco but the patio is smaller and the food is much better.
We fit in two shows, Totem and Chelsea Handler. Shows in Portland are much cheaper than in San Francisco and the venues are easy to get to from downtown plus even though they were almost sold out, it didn't feel as busy as shows in the Bay. But if you take the train back, pay attention because we learned it's not a direct train to downtown.
Pittock Mansion – 3229 NW Pittock Drive – You can see Mount Hood and Mount Saint Helens from up here.
Washington Park International Rose Test Garden – 400 SW Kingston Ave – It was pretty but the roses weren't blooming yet.
For Next Time
Stores and restaurants on 21st Ave
Stores and restaurants on 23rd Ave
Breweries – There are so many but we decided not to visit them on this trip
Farmer's Market on Saturdays