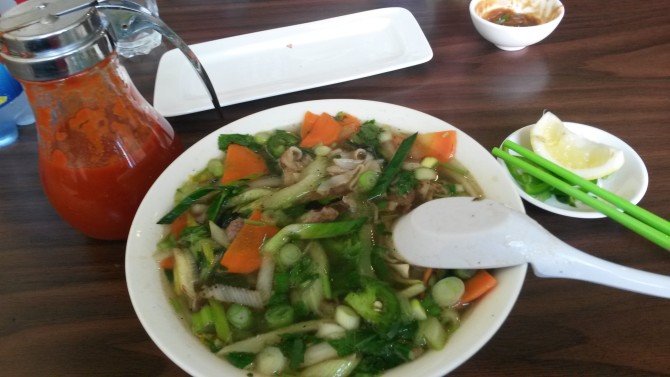 When I'm feeling down or under the weather, I like to eat pho noodle soup. Pho is my version of American chicken noodle soup, only better. With pho, there are so many options to personalize your own bowl of goodness. You can opt for wide or medium flat rice noodles if you don't want the traditional rice stick noodles and you can pick seafood or different meats as well as cuts of meat and various cow parts. Most pho restaurants also have egg noodles, won ton and rice plates too. What makes good pho is the broth base and the al dente-ness of the noodles.
The other day, we left work early for an appointment and made our way to the Tenderloin, or TL and now also known as Little Vietnam due to the influx of Vietnamese inhabitants. The TL isn't the best part of town, ironically butting up against Union Square and Nob Hill, but you can get some delicious Vietnamese food there. On this trip, we were feeling down so we decided pho would be a good pick me up.
Walking towards Larkin to the cross streets of Ellis and Eddy, we had to leap frog over piles of clothes on the sidewalks, dodge the heroin binging crazys and hold my nose passing the homeless. You know, a typical stroll through San Francisco. And then there, I saw it! Behind the big panes of glass and across the street from a desolate blimp on the radar was Turtle Tower.
We entered through the double doors and quickly took in the aroma of the broth and scanned the room. Turtle Tower recently moved to this location so everything looked new. The dark brown wooden tables and chairs and floor tiles were very clean and the walls were tastefully decorated with old photos of Vietnam. It was 3:30pm on a Wednesday and it was busy. We had to wait a few minutes for them to clear a table which isn't unusual for Turtle Tower. We hadn't been to this new location before but we had the same experience at the other ones on every visit no matter what time of day it was.
Turtle Tower is famous for their Chicken with Chicken Giblets Noodle Soup (Pho Ga Long) but I've never tried it. Whenever I get their menu, I think of trying something new but when the server arrives, what I intended to order in my brain never actually reaches my mouth. It's like my brain, mouth and stomach don't communicate with one another. You will always hear "Number 6, small" come out of my mouth. #6 Stir Fried Beef with Celery, Carrot, Onion and Leek Pan Fried Noodle Soup (Pho Bo Ap Chao Nuac) is so good that I've turned my hubby onto it too. The broth has a slightly oily layer from the pan fried noodles and veggies but "it's so delicious", a direct quote from Steve. To avoid the oiliness, I've had the #5 which doesn't include pan fried noodles but it lacks the smokiness and overall texture of the seared noodles. By the way, Turtle Tower serves Northern Vietnamese food so the noodles are medium width flat rice noodles and they don't serve their pho with hoisin sauce, bean sprouts and cliantro. They do however serve it with jalapenos and you can have as much sriracha as you want.
After lunch, we walked down to BART and stopped at the Civic Center Farmer's Market. The vendors set up there every Wednesday and Sunday from 7am till 5pm. Since it was getting close to 5pm, they were packing up and all the vegetables were marked down significantly. We bought kale, dill, and arugula for $2. I wasn't in the mood to shop or in the right mind to think about what dishes I wanted to make that night so we didn't take advantage of the veggie deals. But now we know for next time. BART there after work, shop and hop back onto BART to head home.
I just remembered Turtle Tower had reusable bags that said "I heart TT pho-ever". It's raining now and a hot, simmering bowl of soup sounds good. I think I do "heart TT pho-ever".