I'm a Banana and How Bananas Saved Me
So yeah, I'm a banana or at least my dad told me I was a banana for most of my growing up years. You know, yellow on the outside and white in the inside. I suppose, it's not necessarily a negative but he did mean it to be so because he thought I was straying from my cultural upbringing. And then in college, a friend of mine told me his parents called him a Twinkie. hahaha…I had never heard that before. One, I hadn't eaten a Twinkie in my life so two, my dad would have no idea what a Twinkie was so he couldn't call me that. And if neither one of us could relate to a Twinkie, I guess I could never really be a Twinkie but a banana? Okay. Maybe. I mean, I look Chinese on the outside but shit, I grew up in a small Northern California town and there were only two other Asian families so of course I was greatly influenced by my white counterparts. That's how life is.
Anyhow, this leads me to how banana bread has saved my life. My dad may have called me a banana but he and my mom really liked my banana bread. I've been baking them banana bread since I was in the 4th grade. Even now, I can probably get my way with a little banana bread or at least get my mom to stop nagging. So she was visiting recently and I opened the fridge and voila! I see brown bananas. When bananas start to go bad, I throw them in the fridge just in case I get in the mood to bake. They're going brown so either they go in the trash or they are spared a few extra days and I turn them into banana bread if I'm in the mood…it so happens that this particular Sunday, baking banana bread seemed like a good idea and I had two hours to kill before heading out to dinner.
Banana Bread
Ingredients:
1 C. Sugar
2 Eggs
3/4 C. Butter
2 C. Flour
1 Tsp. Baking Soda
3 Ripe Bananas
1 Tsp. Vanilla
1/2 Tsp. Salt
Slightly melt the butter in a small glass bowl in the microwave. Let it cool a little and mix in sugar with eggs.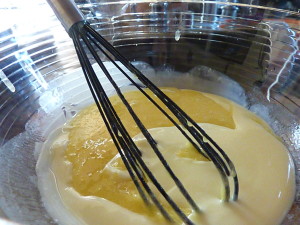 Mix the dry good in a separate medium sized bowl.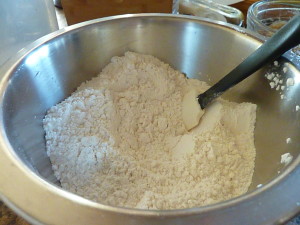 Mash the bananas in a third bowl.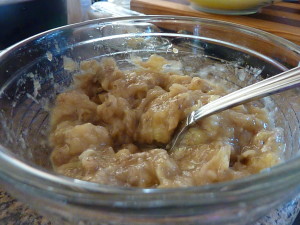 Mix butter and sugar mixture along with bananas in with the dry ingredients.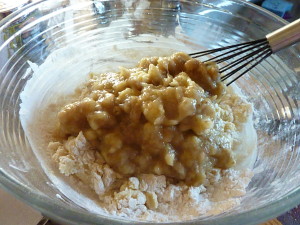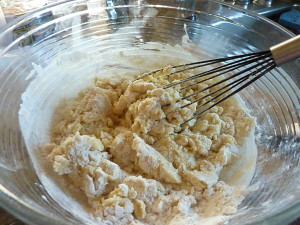 Add vanilla.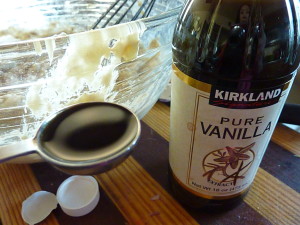 Grease your loaf pan.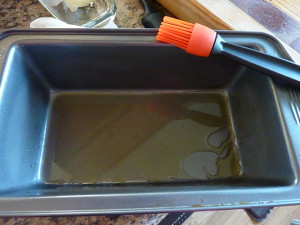 Pour mixture into the loaf pan.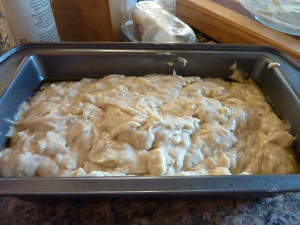 Bake at 350 degrees for an hour or until a knife comes out clean when you stick it in the middle of the loaf and pull it out.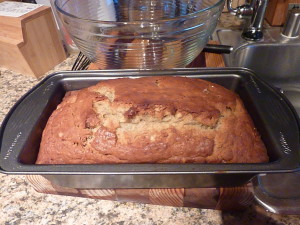 My preferred baking pan is the Wilton Excelle Elite loaf pan and it has handles for easy and safe lifting. I like to use olive oil with a silicone brush because I think cooking sprays are unhealthy for you, wreck non-stick pans and ruin the environment with their aerosol.