Egg White Muffin Bites Version 1
These eggs can be stored for 3 to 4 days so make these on Sunday night or Monday morning so you have breakfast for the entire week if you and whoever eat two or three a day.
Makes 24 muffins.
Ingredients:
Oil (used to line muffin pan before inserting ingredients)*
2 Muffin Pans (12 slots each)
2 Diced Bell Peppers
1 Diced Onion
3 Handfuls of Pre-cut/Pre-washed Spinach or Small Bunch of Leafy Greens
32oz Carton of Liquid Egg Whites
Salt and Pepper to Taste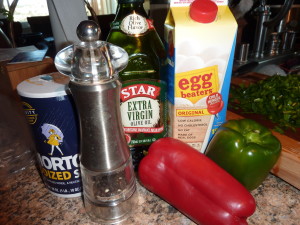 The oven needs to be pre-heated to 350 degrees. I like to save energy and wait until after I finish cooking the veggies to pre-heat the oven.
We got chives for $1 at the Farmer's Market so we're going to add half a bunch of diced chives for extra flavor instead of onions.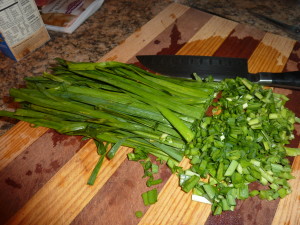 Heat your pan with a little oil.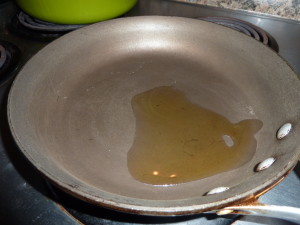 Dice your bell peppers and onion if you have an onion available.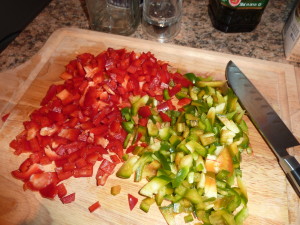 Brown the bell peppers and onions.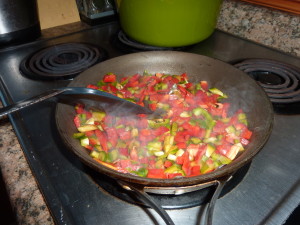 Add your spinach. Or chop up some leafy greens and add it in along with the chives. We used kale which adds a lot of iron and chewiness.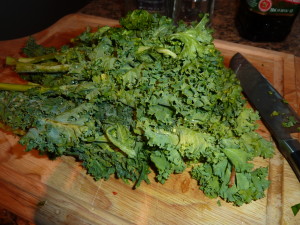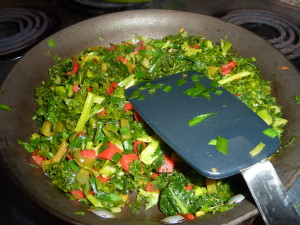 Season with some salt and pepper. For a little pep, add some Joe's Hot Stuff.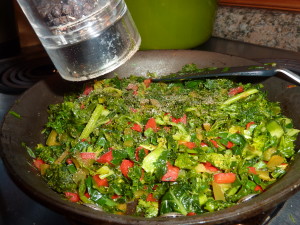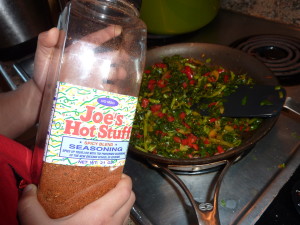 Spray the slots in the muffin pans with oil or use a silicone brush to coat the slots. We prefer not to use commercial cooking spray because of it's negative effects to your health, environment and non-stick pans. I highly recommend Wilton's Excelle Elite Muffin Pans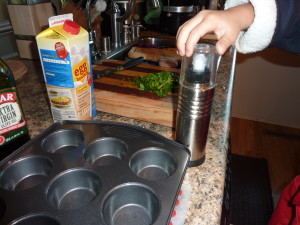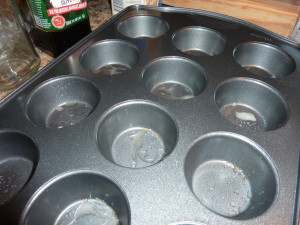 Fill each slot with the cooked mixture. The modern Asian soup spoon works well for portion control. One scoop worked for each slot and this step was an easy one to incorporate my nephew's help.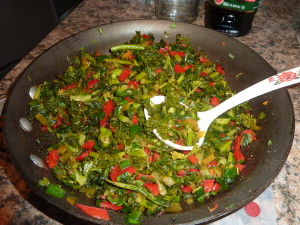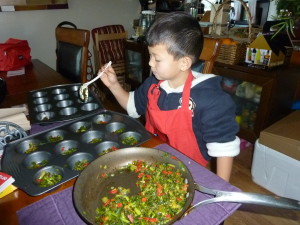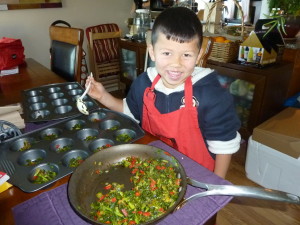 Pour the liquid egg whites over the vegetables but only fill them about 3/4 so that you can make 24.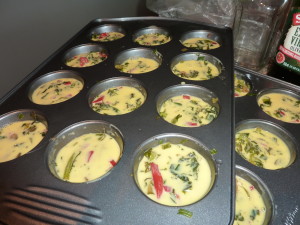 Bake for 20 to 25 minutes until set.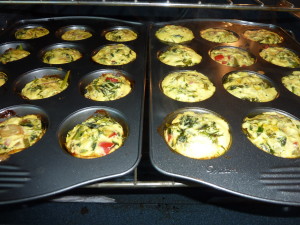 Pop the eggs out of the slots and let the eggs cool for about 20 minutes. Store them in a container using wax paper in between the layers if stacking the egg muffins.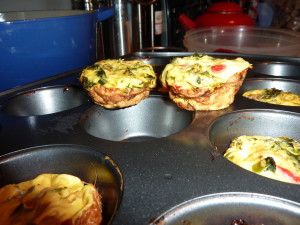 Serve with your choice of hot sauce and/or salsa.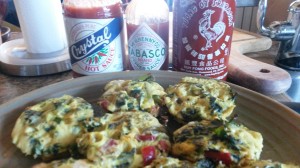 Or even better, with waffles.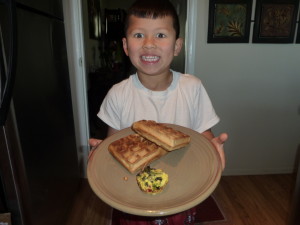 * Alternatively, you can line the slots with muffin paper cups instead of using the cooking spray. I didn't really like the way the eggs stuck to the paper but it's doable and made it easy to transport from the kitchen to the car.