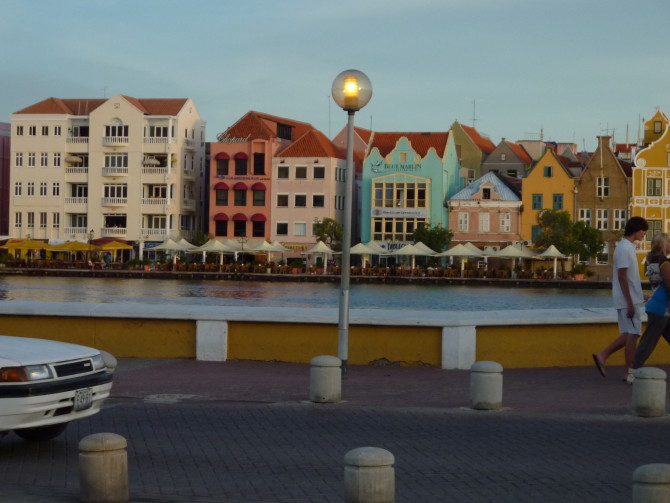 We went to Curacao for our long awaited honeymoon a little over a year after our wedding. The wedding was two days prior to Steve's first day at his new job and I was fairly new at my company as well so we didn't have the luxury of laying around on a beach as newlyweds. When we decided to finally go on our voyage, I had a few requirements. Steve had to find us a place that was reasonably priced that had beaches, culture with a lot of history and museums, and architecture. Our first trip together was to visit Italy and I loved all of those aspects of the trip so I wanted a similar type of trip with more beach and sun.
Curacao is an island by Aruba, off the coast of Venezuela and is a Dutch owned colony. Willemstad, the capital city of Curacao was cool with all the pastel Dutch architecture, maritime and history museums and sandy beaches with blue water. We chose this island because it's under the hurricane belt and they said it hardly rains. But guess what? They had the worst tropical storm in 10 years while we were there!!! This was October 2010 so some of the museums such as the maritime museum were closed but we hung out and took pictures with the outdoor displays we were able to access. The best historical museum I had ever visited was the Kura Hulanda Museum which is a slavery museum. There was so much to learn there about the past slave trade and recent Civil Rights Movement. I had no idea that so many slaves came over through the Dutch. It was a very impressive museum and I highly recommend spending of couple hours there.
You have to go see the Queen Emma Bridge, a pontoon bridge across St. Anna Bay. The bridge moves via pontoon boats and opens up for ships that come through the bay. You can walk on the bridge while it moves too. It's a pretty cool feeling. We had a few meals at an outdoor restaurant along the water with TV's, an outdoor bar and umbrellas (see restaurant in picture above). We recommend hanging out there and getting a bite to eat. La Bahia Steak and Seafood restaurant overlooks the bridge and has a nice view from the second floor. I don't think the food is very local but it was recommended so we went there for a nice dinner. It's like an upscale Outback Steakhouse and I prefer the food at Outback over La Bahia but it's not horrible and it's not good.
Curacao is great for couples and families. A few things to note about Curacao is that they serve a lot of rum punch or rum drinks and the servers are in no hurry to get what you need. So if you think you'll be hungry, head to a restaurant and order your food and wait..and wait…It's an extremely slow paced place with very nice people including many Dutch and Americans that have relocated. Since Curacao is so close to Venezuela, they have a "farmers market" on boats along the edge of town with Venezuelan vendors who bring in fresh goods daily. Get some unique fresh fruit there to quench your thirst and relieve the heat.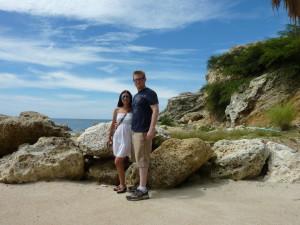 Where We Ate and Loved:
Fishalicious Restaurant www.fishalicious.net – This place was awesome and the service is superb. They offered very local dishes and fresh seafood. We walked there from the casinos so we could get a sense of the city but we took a cab back.
Jaanchie's Restaurant in West Punt was super local. This is where we had iguana and goat. You'll need a car though but it's worth it because it's also a beautiful drive.
All of the restaurants at Renaissance Mall and Rif Fort were quite good especially Bistro Le Clochard www.bistroleclochard.com and the Japanese restaurant.
Where We Stayed:
Veneto Casino Holiday Beach Resort
Pater Euwensweg # 31
Willemstad, Curacao
Netherlands Antilles
Phone: 599 (9) 462 5400
www.venetocuracao.com
Location wasn't horrible but the mosquitoes got me every night on the walk to town and this place is comparable to a low rent casino in Reno.
Where We Would Stay Next Time:
Renaissance Curacao Resort & Casino Willemstad
Baden Powelweg 1
Willemstad 97223, Curaçao
+599 9 435 5000
www.marriott.com/hotels/travel/curbr-renaissance-curacao-resort-and-casino/
Extremely beautiful hotel with a nice buffet spread. The Renaissance is closer to the center of town and the bars and restaurants in the area is where we mostly hung out.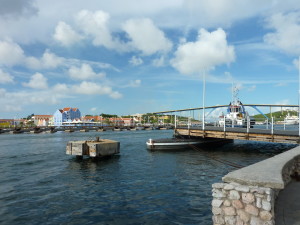 Must Sees:
Avila Hotel www.avilahotel.com – People vacationing here don't leave the resort. They are mostly Europeans on vacation. This place was beautiful and they had a blues bar.
Curacao Museum www.thecuracaomuseum.com
Kura Hulanda Museum (Slavery Museum) http://www.kurahulanda.com/en/museumx – Very interesting and cool. There are some great artifacts here.
Renaissance Mall and Rif Fort – Lots of restaurants, outdoor bars, live music, shops and late night drinking.
Blue Bay www.golf.bluebay-curacao.com
Playa Jeremi – Snorkeling with many types of creatures under water and unbelievably beautiful beach and views.
Synopsis of Our Very Adventurous Time
We relaxed the first few days by laying on the beach and taking walks. We opted to do the museums, etc later in the trip but then the storm hit! Everything apparently closes if it rains in the islands! We made the best of it and took pics outside of museums and looked through the windows. hahahaha…It seldom rains and so it was very difficult to find an umbrella. They thought we were crazy asking for an umbrella at the stores.
On sunny Monday, we thought we'd walk 1.5 miles to this other fancy resort and watch the WS game there since they had three bars. We get there and find out they don't have a single TV! So we went to eat at this recommended restaurant, Fishalicious (www.fishalicious.net), which was awesome.
While we were there, it poured rain. We got a cab back to our hotel and ran through the rain to the bar to watch the game. I was wearing a strapless dress so I had to hold the thing up because it was THAT WET out! We arrive at the bar, and the bartender thinks we're crazy because we were drenched and he points to the TVs which were out of service! Darn! We run through the rain and go into the casino and watch the game from the smoking betting room but their satellites go out too. So we rush back to our rooms and watch the remainder of the game via laptop in Spanish until…Steve notices that our room is flooding. hahaahaha…we grab all our shit and sit in the middle of the bed to watch the game until the 7th inning stretch. We change rooms and watch the remaining innings and see the win. Then the internet goes down! But at least we got to see the win and say woo hoo to Kristen on Instant Messenger before it went down.
Since it had rained, the gov't said that we had to stay off the beaches! We couldn't go into the water because all this oil and shit drifted into the shore. We made the best of it and just walked around. Anyhoot, so on the last day, we rented a car to drive around the island visiting Blue Bay but during the drive, I had a bad feeling and told Steve (If I get a twitch in my eye, it's a sign of bad luck and has been for as long as I can recall. It's also a Chinese superstition). We couldn't do it earlier because the roads had flooded. We got some tips and drove to some beautiful beaches and Playa Jeremi, where Steve decides to snorkel….so he leaves his shorts in the car and changes into trunks…we ate iguana and goat stew at Jaanchie's Restaurant in West Punt then go to a lookout point. On our return to the car, we find a broken window and his clothes including his wallet are gone.
We get back to the hotel and the lady that owned the rental company was Asian and didn't speak much English. We needed a police report and she had to help us. Steve decides to just speak Chinese to her and she actually understood! She spoke Cantonese but not English. So she speaks to the police in their native island language, she speaks to me in Chinese, I speak to Steve in English and he responds to the police in English. This was the circle we went through. hahaa…then they hand us this police report written in their native language and said to give it to our DMV to get Steve's new ID. haha…we can't even read this shit. While at the police station, the police man breaks into a dance when KC and sunshine band came on.
The people of Curacao are extremely nice and everyone we encountered apologized profusely for what had happened. A few days later, someone found Steve's cards and ID on the side of the road and located our contact info through this website to let us know. They, too, wanted us to know that crime like that does not happen on their island and they hoped that our memories of the island would still be pleasant ones.