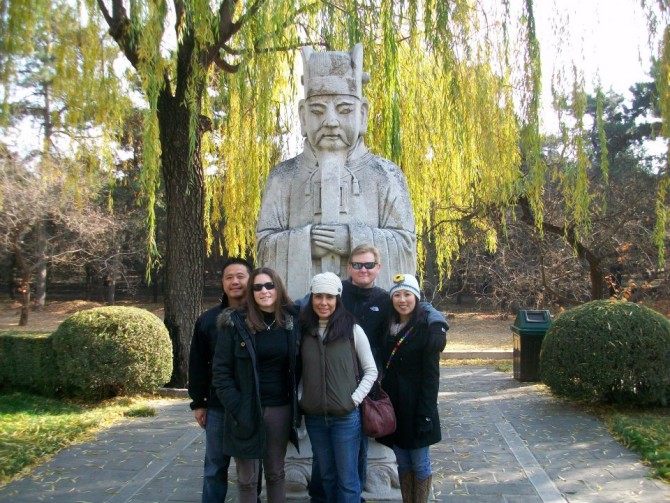 China Ancient Cities Tour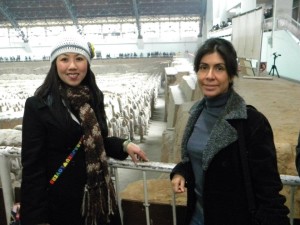 "Yesterday was a good day," sums up every day in China as it was one of the funnest trips we had ever taken and we were able to enjoy it with a small group of friends. When we ate breakfast together, one of our friends would smile and lament on how great the activities of the prior day were and then we'd have another good day.
We decided to book a tour company for this trip. With any tour vacation, one must sacrifice some cultural experiences in exchange for safety and convenience. We opted to 'do it ourselves' on our Italy trip but decided to do the tour for China and we are glad we did. One of the great things about a tour is that someone with knowledge is there to guide you, answer any questions and look out for you in general. Another great thing is that your luggage will be carried around from town to town, hotel to hotel, without the struggle and drama that goes with carrying your own bags. On the other hand, one of the downfalls of booking a tour is that you have to eat the food that is provided. The food on the tour is rarely good. Our Majestic Vacations tour included breakfast in the hotel, which was almost always good, and then lunch at restaurants that had a relationship with the tour company. Dinner was only included twice so we were mostly on our own for dinner and that is where we got to be adventurous and had our best meals. The inclusive Peking Duck and 17 Course Dumpling dinner were awesome.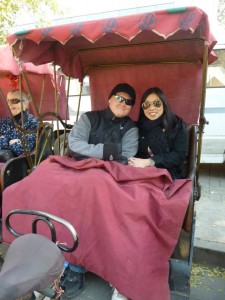 A couple of meals on the tour were quite delicious, but when taking a tour, don't count on it. We were completely satisfied with our decision to take a tour in China because we were able to visit five cities with very little hassle. The sacrifices we made for lunch were well worth the convenience that the bus and guide provided. After the days travel, we were left to our own devices and we had a great time finding little gems through searching on our own using Jen's Mandarin skills to help us if we got lost. We had a great time on this trip.
China Itinerary – Beijing, Xian, Shanghai and Hong Kong
Day 1 – Depart from U.S.A. CX 873 12:05AM ARR. HK 6:45AM+1DAY
Depart from U.S.A. to Beijing, China. Cross the International Date Line en route and lose one day.
Aber-Louie Comments:
Lots and lots of airplane time.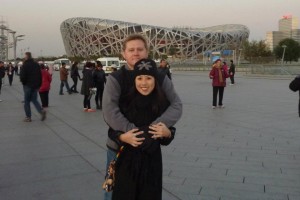 Day 2 – Arrival Beijing CX 6872 8:00AM ARR. BEIJING 11:10AM
Hotel: Chang An Grand Hotel
Aber-Louie Comments:
Charlie picked us up from the airport, put all of our bags in the bus and we then picked up the rest of the people in our tour group. There were five in our group and four other ladies. Two from New York, and two from Quebec. It was a small group. After we checked in, we took a walk and found some cool local markets selling 'North Face' jackets and such. We then found some place for dinner.
Day 3 – Beijing
Take a morning tour to Tienanmen Square and the Forbidden City. Then, approach to the largest imperial garden in the world, the elegant Summer Palace, with a cruise on the shimmering waters of Kunming Lake. After that, visit the Panda House in Beijing Zoo.
Hotel: Chang An Grand Hotel
Aber-Louie Comments:
This was a lot of fun and our introduction to Beijing. Beijing feels very nationalistic, especially with the HUGE picture of Chairman Mao in Tienanmen Square. The Summer Palace is amazing and seeing the Pandas was fun.
Day 4 – Beijing
In the morning, approach to the exterior of Bird Nest & Water Cube for photography. Then, continue to the Great Wall at Badaling, and walk along its ramparts for breathtaking view of the largest man power project in history. After that, tour the Ming Dynasty's Imperial Tombs & the Sacred Way. If time permits, visit a Jade Carving Factory. Enjoy a Cultural Show tonight.
Hotel: Chang An Grand Hotel
Aber-Louie Comments:
Climbing the Great Wall where we climbed was no joke. We had jackets, gloves and hats at the bottom. By the time we got to the top, we were in T-shirts. The Jade factory was great and I bought a bracelet for Jen. If you're asked if you would like to enter the Great Wall where there are fewer people but is harder versus an easier route that has more people, be prepared for a scary and steep walk if you choose the more difficult route like we did. The view is amazing and is worth the fright but you will get a work out.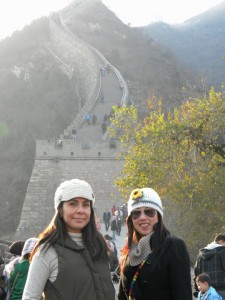 Day 5 – Beijing
This morning we'll visit another renowned imperial site – the Temple of Heaven. Then, visit Beijing Planning Exhibition Hall and watch a 3D film, which tells the glory history and fast changes of Beijing. In the afternoon, take the old–fashioned Pedi cab to the historical Hutong Area. We'll visit Pearl Workshop if time permits. Tonight, enjoy Peking Duck Dinner.
Hotel: Chang An Grand Hotel
Aber-Louie Comments:
The highlight of this day was taking the pedicab through the old town of Beijing. The Peking duck was also delicious.
Day 6 – Beijing – Xi'an MU 2102 8:00AM ARR. XIAN 9:50AM
Take a morning flight to Xi'an, the great 7th century capital of the glorious Tang Dynasty. On arrival, meet local guide and transfer to your hotel. Afternoon city tour includes Big Wild Goose Pagoda and Provincial Museum.
Hotel: Aurum International Hotel
Aber-Louie Comments:
Our tour leader on this part of the trip we called the Tiger Lady. She was fierce. Our lunch portions seemed very small and when we mentioned this to her, she tore into the restaurant manager. This heated discussion ended with a few extra, and eagerly anticipated, dishes. We saw some cool stuff in Xian, which is a huge city, but nothing spectacular. We went to a local hot pot place across the street about a few blocks down from the hotel. It was really fun to cook our food together and the staff only spoke Mandarin which added to the experience. They assigned the only English speaking employee to our table and Jen practiced speaking and reading her Mandarin to order our food.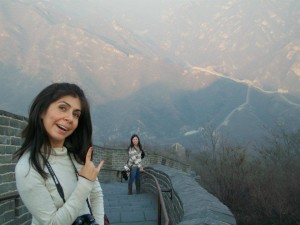 Day 7 – Xi'an
Today, we'll view the astonishing army of life-sized terracotta warriors that has been standing guard by the tomb of the Emperor Qin Shi Huang for over 2,000 years. We'll see all excavated Exhibition 1, 2, 3, 4 and watching the archaeologists continuing on the fields for further excavation. Then, we watch the Circle Vision Movie of the historical story. On the way back to the city, we'll visit the Ceramics & Pottery Center. Tonight, taste Dumpling Dinner and enjoy Tang Dynasty Performance.
Hotel: Aurum International Hotel
Aber-Louie Comments:
The terracotta warriors were amazing. I am very glad that I took time to go visit this amazing site. One important thing that I have to note is how good the food was at the museum of the terracotta warriors. Handspun noodles and such. It was really good. The dinner was also really good. We watched a very enjoyable cultural music show and had an amazing 17 dumpling dinner. How can anyone say no to a 17 dumpling dinner? This was one of our favorite days.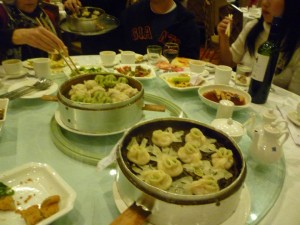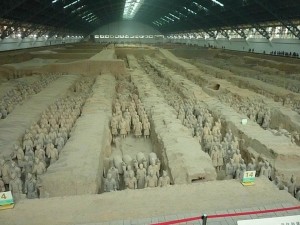 Day 8 – Xi'an – Shanghai MU 2155 10:00AM ARR. SHANGHAI 12:00PM
Fly to Shanghai. Afternoon tour includes the Bund – the window of Shanghai history and modern changes, Xintiandi, a very well-known boutique area composed together with fashion and tradition, fun & elegant.
Hotel: Galaxy Hotel
Aber-Louie Comments:
Shanghai is very different than Beijing. The feeling in Shanghai is all about business and commerce. We got coffee in Starbucks where white people were speaking perfect Mandarin. We later took a ferry ride on the river to see the the impressive buildings which were lit up. It is a beautiful, modern city. We went shopping at Toabao City (Han Tity) Clothing Gift Market – 580 Nanjing West Road for knock offs. Always remember to barter and if you really want something, ask around for it and they'll send you through a maze of hidden walls for the best items. We were really excited about the Xiao Long Baos which are originally from Shanghai so every chance we got, we ate them.
Day 9 – Shanghai
In the morning, tour the Old Downtown and classical Yu Garden. In the afternoon, we'll visit Shanghai Museum. The attractions include enormous finest stone sculptures, bronze-ware, porcelain, calligraphic works, Chinese paintings and ancient furniture. After that, stroll to the People Square. The surroundings are the best collection of modern architecture. If time permits, we'll visit a Carpet Factory. Tonight, enjoy the famous Shanghai Acrobatic Show – an unforgettable experience.
Hotel: Galaxy Hotel
Aber-Louie Comments:
The acrobatic show was really fantastic. Later, we took a cab, which got into a small accident with a bus. Then we went to Captain's Bar in the Bund and ended up at a jazz club across the street called Blues & Jazz to watch a Cuban band while we drank Kentucky Bourbon. In China.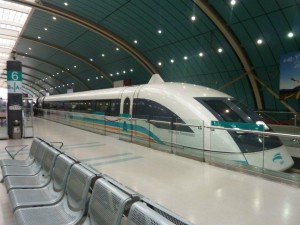 Day 10 – Shanghai
Today's highlight is the Shanghai World Exhibition. It covers an area of over 5.6 Square KM with 27 master halls. The theme is to show all new creational hopes, concepts, designs, technologies, and present to the world a full potential of urban life in the 21st century as a significant one for urban evolution, a New Approaches of Human Habitat, Beautiful Lifestyle. (Shanghai EXPO period is for May 01 – Oct.31, but for Feb.01-Apr.29, Nov.01-Dec31 pre & post exhibitions might also be available) If Shanghai EXPO is not available on the date, we'll make an excursion to the ancient water-town of Zhujiajiao & Jade Buddha Temple.
Hotel: Galaxy Hotel
Aber-Louie Comments:
We had a great long day of food, culture and massive amounts of people. We had great Xiao Long Bao.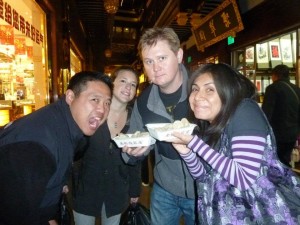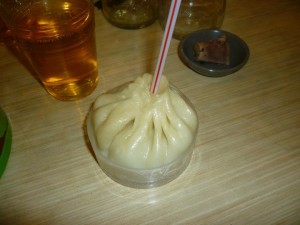 Day 11 – Shanghai – Hong Kong CX 367 12:20PM ARR. HK 3:05PM
Hotel: – BP international Hotel
Aber-Louie Comments:
We checked into the hotel and then went for a walk. We stayed right by the the Temple Street market on Kowloon, so we headed that way. We ended up sitting in an busy alley at a random restaurant that boasted crab and beer. It was some of the best crab I have ever had. A delicious introduction to HK.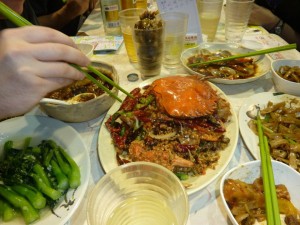 Day 12 – Hong Kong – Macau
Tour of Macau and free evening.
Hotel: – BP International Hotel
Aber-Louie Comments:
Macau is like the Vegas of Asia. We took a hydrofoil ferry boat that went about 70 mph and sat about a thousand people. It was full of Asians ready to gamble. There are lots and lots of Casinos and an odd mix of Catholicism as Macau is a Portuguese colony. We toured the city, ate some good food, went to Jackie Chan's casino and headed back. Then we had dinner of hot pot at Lin Kee Hot Pot at Basement & 70 G/F Beverley Comm Ctr in Kowloon which was the best hot pot experience we'd ever had. One side of the pot was spicy and one side was not. This place is known for their spicy broth and it was definitely spicy but so good. The restaurant was in an alley and was hard to find but was in walking distance from the hotel.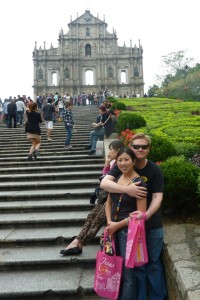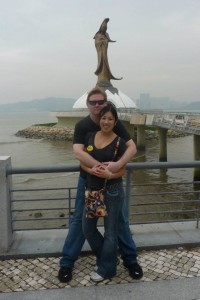 Day 13 – Hong Kong
Tour of HK and free evening.
Hotel: – BP International Hotel
Aber-Louie Comments:
This was the worst tour on our trip by far. If you go to HK, don't take any tours. Everyone speaks English and the adventures we got into on our own were well worth it. We had so much fun on our own in HK. We went to many markets where we bartered for goods, like NFL Jerseys and Android tablets (Ladies' Market and Man's Market – Apliu Street, north of Boundary Street).
Day 14-15 – Hong Kong
Free day.
Hotel: – BP International Hotel
Aber-Louie Comments: We ate great Dim Sum at New Star Seafood Restaurant – Shop M G/F Mainway Court Mongkok Kowloon near Ladies' Market, noodles and whatever else we tried. Jen's aunt took us to a super local restaurant which was fantastic. We also went to the apparently exclusive Dragon-I Bar where I took this photo and sent it to my father: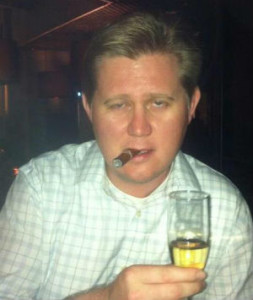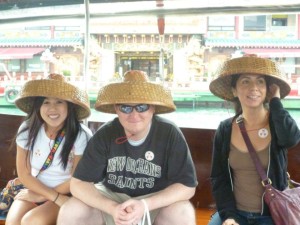 Day 16 – Hong Kong CX 870 2:05PM ARR. SAN FRANCISCO 10:00AM
Return trip to U.S.A.
Aber-Louie Comments:
Then we went back home. I could have stayed in HK for another week easily. What a great trip.
Hotels
Beijing: Chang An Grand Hotel – 27 Huaweili, Chaoyang District Tel: 86-10-67731234
Xian: Aurum Int'l Hotel – 30 Nan Xin Street, Xian Tel: 86-29-87672888
Shanghai: Galaxy Hotel – 888 Zhong Shan Xi Road, Shanghai Tel: 86-21-62755888
Hong Kong: BP International Hotel – 8 Austin Road, Kowloon, Hong Kong Tel: 852-2376-1111