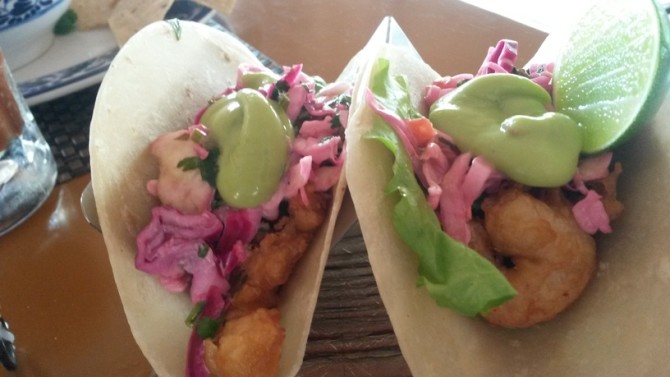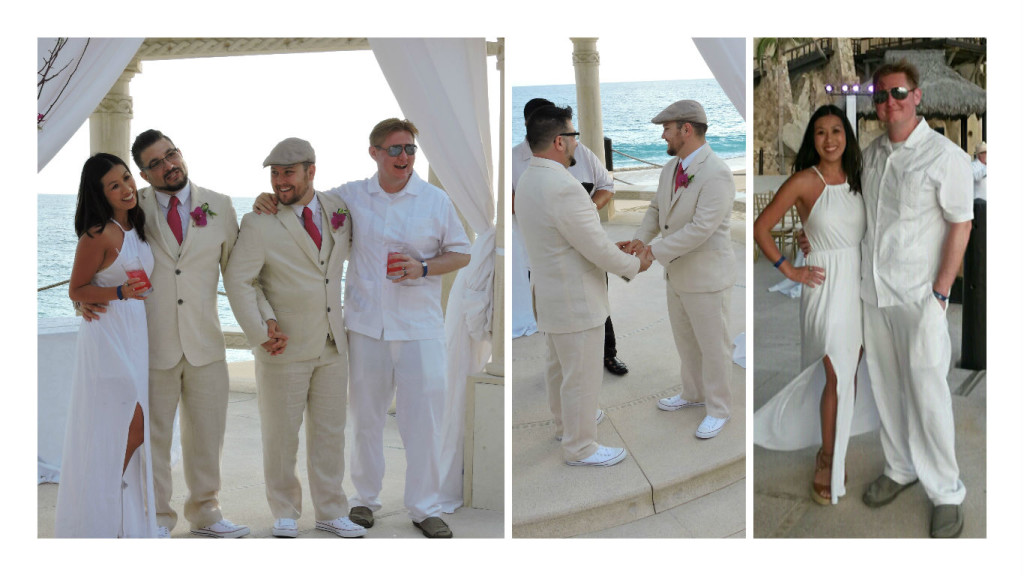 We flew to Cabo San Lucas using the Virgin Buy One and Get One Free voucher we received as a promotional giveaway at a SF Giants baseball game. It was our first time in Cabo though we've been to Cancun once and Puerto Vallarta twice. Cabo reminds me more of a Spring Break club party atmosphere where the tourists ranged in age from young 20's to early 50's and were out looking for a good time. Since it's a big fishing spot, you can imagine the number of males prowling the clubs and bars. There were of course older couples and a few families but it was three weeks before Thanksgiving so I'm sure the area would be packed with families as we get closer to the holidays.
On this trip, we were lucky to have "tour guides," as our friends had been to Cabo many times before and our "driver" spoke Spanish and had no issues navigating us around. We even got to visit this huge Mega Mart that was like a Wal-Mart on sterioids. Our friends took us there so we could get some fruit and veggies for our morning smoothies. Mega was quite impressive and it was fun shopping there because we got to see a lot of cool products we recognized repackaged under a different label and unfamiliar products made specifically for Mexican consumers. We lost our camera in Cabo so we can't show you any pictures of what we found here but my friends did share their other pics. See below for pics and a list of places we went to.
Cabo San Lucas has a lot of bars and clubs for nightlife. Most don't have cover charges so you can pop in and out of places just to check them out. There are a lot of restaurants to choose from in the downtown area ranging from $2 street tacos to very casual to nice sit down restaurants. There's a marina about 1.5 miles end to end you can walk or run along and you can also run along the beautiful beach. If you're lucky, you can see sea turtles hatch like we did! We found out sea turtles are almost extinct because of people building along the beach so this was an unusual sight we were able to capture on camera. The turtles hatched on the sand but were really far from the water. We saved over a dozen turtles by placing them in the water. There are a lot of vendors or sharks as we call them, trying to solicit you for excursions. Just ignore the vendors and if you decide to go on a Sunset Cruise, which we highly recommend, or some other excursion, check with your concierge for prices and when you're ready to deal with a vendor, see how low they will go. Never pay full price because they will always go down. See below for our excursions.
I'm very glad that Steve booked our first two nights at a little boutique hotel. I love boutique hotels because they are smaller, cozier, nicely decorated and friendlier. Casa Bella Boutique Hacienda Style Hotel was a fantastic boutique hotel situated in downtown Cabo. You can easily walk to many restaurants, the marina, the beach and the mall from Casa Bella. Based on the upkeep of the place, convenient location and the exceptional service we received, I'd rank Casa Bella as one of the top boutique hotels we've ever stayed at. I know that's a strong statement but as soon as you step through the wide archway leading into the patio garden, you just stand there in awe. It's so serene with beautiful flowers, shrubs and fragrant trees which makes Casa Bella aptly named.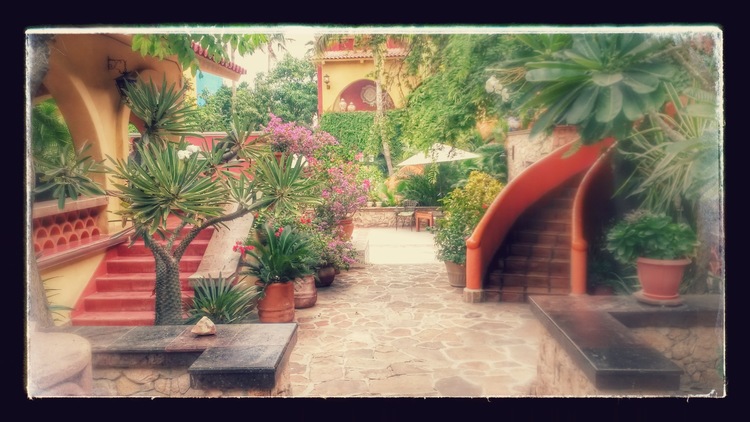 Casa Bella's manager, Barbara, provided correspondences with us prior to the trip to ensure our safety and she waited at the front entrance to greet us upon our arrival. She even had her truck out front blocking a parking spot and moved for us so that our friend could park there while we unloaded and grabbed dinner at Maro's. Casa Bella only has 13 rooms and is a hacienda, or estate, surrounding a pool and garden in the middle. The hacienda was Barbara's home as a child but they transformed it into a relaxing sanctuary to share with us fortunate folks. Our suite was tastefully decorated with Mexican art and crafts and was quite roomy, overlooking the garden. I wish I had pictures to show you the enormous master bath we had. Barbara's story about how her family history and how she ended up in Cabo is very interesting. You should book a stay at Bella Casa and talk to her as you enjoy your complimentary continental breakfast.
We moved from Casa Bella to Sandos Finisterra Los Cabos and it was the worse decision we ever made. When we decided to exchange our Puerto Vallarta timeshare for a week at Sandos, we should have realized the reason for our high bargaining power but we ignored all the warning signs. RCI told us to have lower expectations than we were accustomed to but we thought we were saving money and it was important for us to stay close to our friends who were at the Grand Solmar, a three resorts down the beach.
Sandos is an all-inclusive beach resort that requires all residents to buy an all-inclusive package. We originally didn't mind paying for this because at our past resorts, we get top notch service and quality food and drinks that cover the daily fee. Little did we know that Sandos's all-inclusive package didn't include service or quality. The staff members and individual servers were friendly (Diego, Alfredo and Ulyses) and they tried to be attentive but there just weren't enough of them on the premises. At first, we wondered why we saw lines of people at the pool bar and then we quickly realized there was only one guy serving the pools so we often had to get our own drinks at the bar. As I said, service was low-rate and the food quality was sub-par. If you'd like to read about our detailed experience with this place, I've written something more descriptive at the bottom of this blog about our rooms.
In hindsight, we should have spent our entire 9 nights at Casa Bella and ate $2 tacos in the area and had buy-one-get-one free drinks at our friend's resort. Sandos was a waste of money. No one could ever consume $100 worth of food and drink at Sandos per person. I love Bloody Marys and Bloody Caesars (bloody mary with clam juice) but I was not even able to drink one every morning because those were bad too. I should mention they don't ask for your room number so you can't charge tips to your room. This means you need cash on hand to tip the servers.
Restaurants, Bars and Clubs
The local restaurants and establishments in downtown Cabo are wonderful. They all provided excellent customer service and delicious food and tasty drinks. You'll definitely get your tummies full, your palate wet and your monies worth. By the way, if you need pesos, most of the ATMs dispense US dollars so head to the Scotiabank at the Puerto Paraiso mall to use their ATMs for pesos and lower fees. It's located on the marina side of the mall.
Any Small Street Tacos
$2 beef, chicken and chorizo tacos are delicious! We went to a taco vendor two blocks from the Chandalier bar but unfortunately, I don't have pictures of the place. It's on the sidewalk and you just walk up and order your food. You pay after you eat it. There are ton of places like this around. I'd put my trust in the ones with a line of locals. They cook up your tacos quickly so all lines are short.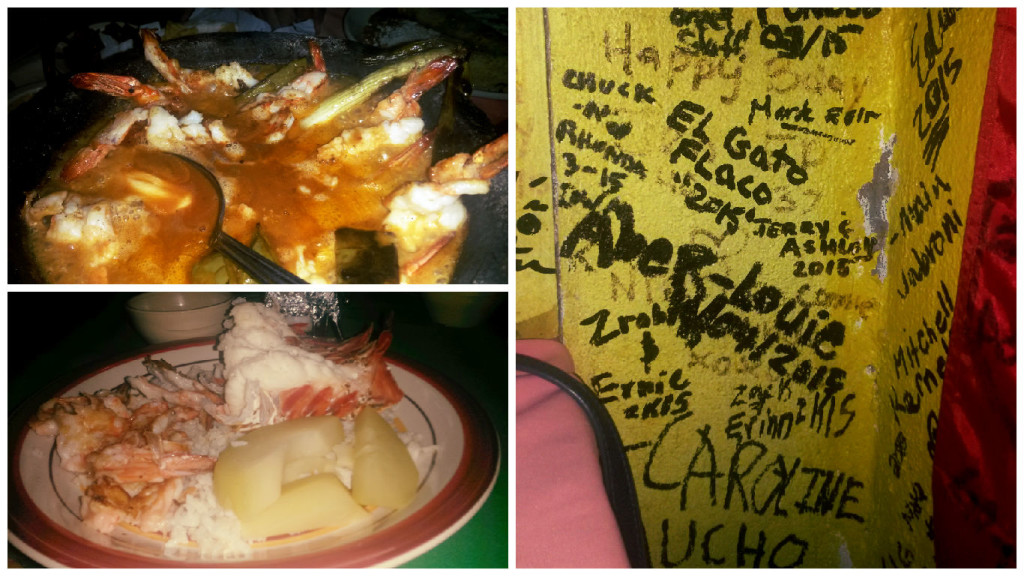 You can't beat $16 for a delicious Lobster and Shrimp Dinner Platter. I loved the Molcajete con Camorones which was shrimp cooked in a molcajete with red sauce with onions and peppers served with tortillas. Molcajete is a traditional Mexican version of a stone mortar and pestle. We ate here on our first night and the food was really good. The service is extremely friendly and they go around trying to get you to take a tequila shot. It's a fun place to eat and you can write your name on the wall. Look for our name!
It's a touristy restaurant on the waterfront that can both easily and effectively serve large parties. We had 20 on a Sunday night and everyone enjoyed themselves. The portions are pretty big so you can share an entree and a salad. They make their Caesar Salad table side and it's really tasty. The service was prompt and attentive.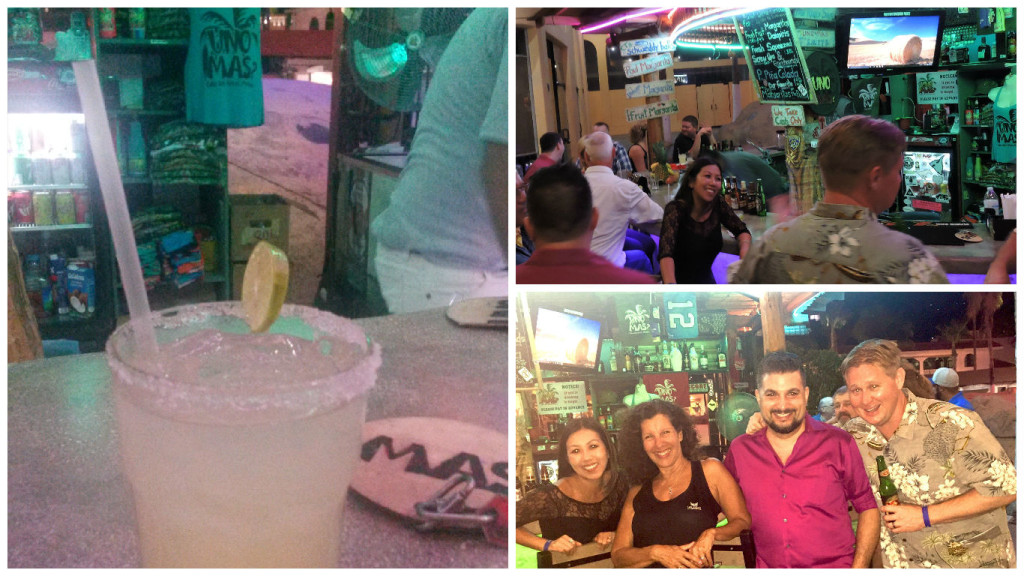 The owner Fernando is super friendly and makes fresh fruit margaritas. The prices are good too. Uno Mas is just a little kiosk with a few bar stools but it serves as a great meeting point with WiFi to grab a drink while you wait for friends or for an after dinner drink. It's in the heart of downtown so you can head out to the clubs from there.
Imagine a Mexican Chevy's or Celia's restaurant (or any US Mexican chain) with TVs. We came here for Sunday football and enjoyed ourselves. This sports bar and restaurant is near the mall and is a bit further than the spots downtown. It seemed like locals sporting their team's apparel like to go to Desperado because the servers knew the patrons by name. Their many TV's allow you to catch all the games without getting up from your seat. We had the Mixed Fajitas and Ceviche and both were huge so we shared them with another couple. Their drinks were good too.
We liked the food we had and the big bowl margaritas. The decor at Edith's is nicely done with bright colors and long tables donned with colorful tablecloths and blankets on the chairs. It is an outdoor restaurant with lanterns dangling in the trees and an open view kitchen where you can your food cooked over flames. Edith's caters to large parties and those who don't mind spending money. We spent $169 USD for the two of us, which was way more than we expected to for a dinner and had to do double take of the bill. If you enjoy dessert with a show, this is your place, as they like to flame their desserts table side.
This club offers a great vibe and great customer service. We were overly impressed by how they manage the place from quickly serving us drinks, clearing the tables, providing a clean and safe place to party and getting people in and out of there efficiently. We went here a few times and enjoyed every visit.
This is a place on the water with a small stage for dancing and tables outside for sitting around. The service was fine but nothing about this place is that memorable nor remarkable. They emptied out pretty early so we didn't dance there for very long.
We liked this place but didn't stay too long because it was getting late. It looked like a good place to drink, get wild and dance.
We had a drink here and tried to catch the Rousey and Holm fight and ended up leaving when they had a live band sing over the fights. Luckily, we had three fights before the main event to find our next destination for the fight. The band was good but we wanted to hear the fight which they had originally broadcasted over the speakers until the band started to practice. The service at Captain Tony's is very poor. They didn't offer us menus at the bar so we didn't order any snacks and they took a long time to take our drink order, to bring us the check and return our credit card.
This bar and restaurant provides awesome service and a great open air place to watch the NFL games and UFC fights. We were able to catch the Rousey and Holm fight here and the place was packed that night with both locals and tourists alike. Some of the patrons had their dogs with them tied to their chairs.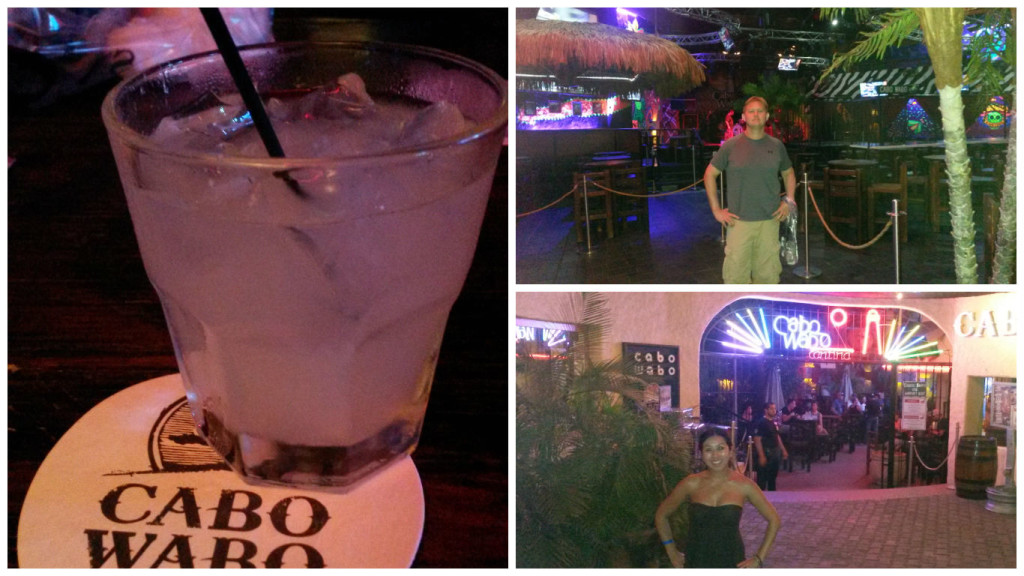 You have to drop by just because you're in Cabo and take a shot or have a margarita. Their salsa is actually really good and their tacos are only $3 each! They have Sammy Hagard and other rock n' roll legend memorabilia adorning the walls.
Excursions
Never pay full price or take the first price they offer you!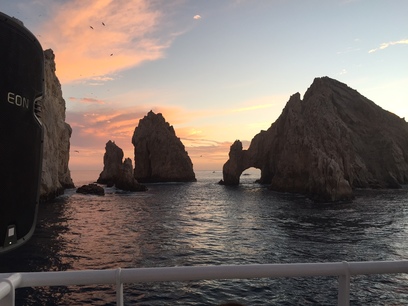 Sunset Cruise
What a beautiful view you'll get on this cruise and the Fajita and Paella Dinner with all you can drink beverages is actually really good. I had seconds and many drinks! We paid $44 total per person though I think they started bargaining with us at $75 per person.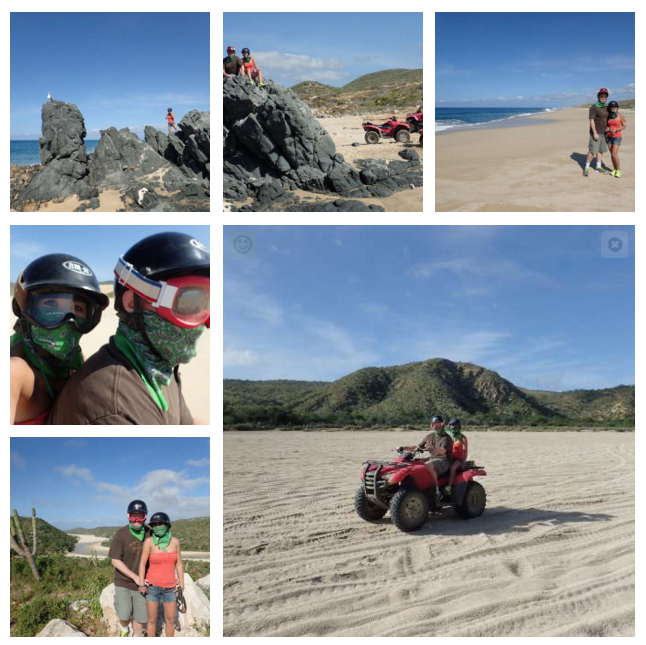 ATVs
This starts with a long ride out to the "country". I had no idea that you could have sandy beaches right next cactus in the desert. It was cool to ride ATVs through the riverrock and ending along the ocean waves. There's a lot to see out there if you're into nature and wild horses. Riding ATVs in general is fun though I rode in the back because driving my own bike makes me anxious.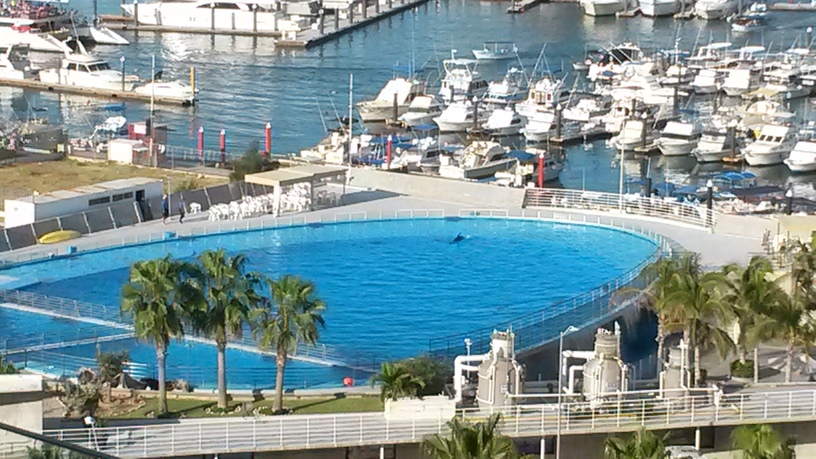 Dolphin Adventure
We didn't participate in a Dolphin Adventure this time but our friends did. They paid $50 each and really enjoyed swimming with the dolphins. The dolphins take you under water and do tricks with you. It's pretty awesome.
Where Not to Stay
Sandos Finisterra is an old resort that is trying to transform itself into an upscale all-inclusive resort. They are currently on the very low end of the scale serving sub-par food and drinks lacking a high level of customer service. It's not the servers' fault but is mere mismanagement of the place. We complained about the food during our time share presentation and the response from Nelson, the sales manager, was that they make money off their all-inclusive packages which means to us, they serve us low cost food to make more money themselves. We didn't leave buying another time share.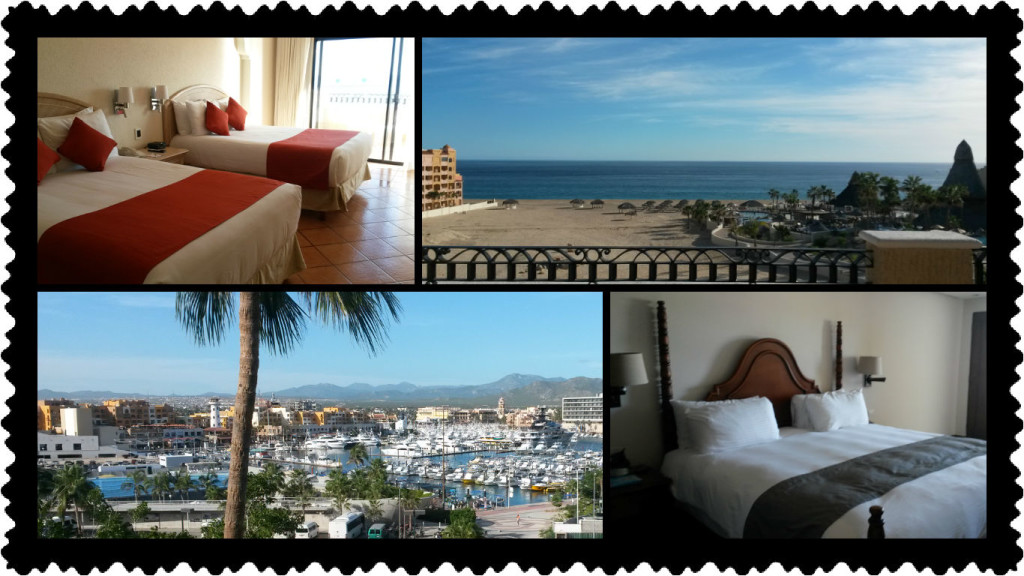 Our first day at Sandos was terrible. The room wasn't ready at the designated check-in time but they assured us our wait would be worth it and they were wrong. We were given a suite with two bathrooms, kitchenette and living room with an ocean view but they left out the part where we'd have two full size beds. The stove had foil around the electric coils and the coffee maker still had coffee in it but who needs a kitchen when we're at an all-inclusive resort? That night we ate at Emiliano's Ostería, their gourmet restaurant. We were told by our host, Claudia, that we didn't need reservations but she was incorrect and we ended up having to wait for a table so we lounged around the Whale Watchers Bar which was nice. We had a terrible experience at Emiliano's and when we mentioned our experience at the time share presentation, they said we must have eaten at Emiliano's because they get the most complaints of all the on-site restaurants. Dishes meant to be hot were cold and cold appetizers looked like they were plated hours ahead. We had to send back our Seafood Soup and if you know my husband, he NEVER sends food back. That's how bad it is so whatever you do, don't order their steak and stay away from the house wine which is served throughout the resort. If you walk around the resort in the morning, you'll see almost full bottles of wine and glasses in front of people's rooms because the wine is nearly undrinkable. If you have to eat at Emiliano's, stick with the Osso Bucco.
We slept one night in a full size bed together and woke up very tired and upset with Sandos. We were able to get a room with a larger bed and much to our surprise, we were upgraded to a room that was only a month old which was a drastic change from the 35 year old room we were in. The new room was much smaller and faced the marina but it had new amenities and was 5 feet from a shared Jacuzzi that hardly anyone used so I got to tan privately and watch the dolphins perform. The cleaners weren't great in that they didn't come clean our room until later in the afternoon and they'd leave us with wet glasses that were turned over and steamed up so we'd wonder if they were clean. And of course on our last morning there, they decided to come early and knock on our door at 8:15am because we forgot to leave the Do Not Disturb sign out but why on all days, do you come early? Even though the room was a month old, the ceiling of our shower had mold and started to peel. They sent someone to patch the sheetrock tape but it continued to peel and hang down. Room service was also poor in that they sent the wrong food and didn't come clear our trays for a day and a half. They were just left out on our balcony where we had eaten.
Agave opened for lunch at 11am but they didn't have food out at the buffet until well after 12. Some people complained and yes, we could order off the menu but that wasn't the point. When you require us to purchase an all-inclusive package and say food is always available, you need to hold up your end of the bargain. The made-to-order food at Agave is pretty good. I enjoyed both their Fish and Shrimp Tacos, Pozole and Beef Alambre earlier in the week but as the week went on, the dishes were saltier and oilier. The stuff they served in chafing dishes were sometimes good and at other times, it looked like a pile of gray stuff or dried out meat. We made salads every day from their salad bar and that wasn't bad as long as they put out fresh veggies. Agave was our only option for lunch besides room service or pre-made sandwiches at the Cupcake Cafe. These pre-made sandwiches and wraps weren't half bad if you didn't mind cold ham and cheese in bread or veggies wrapped in a tortilla.
At least the Cupcake Cafe had good desserts, decent coffee and tea plus an awesome view of the dolphins and marina. Breakfast at Don Diego's is OK as you can have made-to-order omelettes and fresh fruit but they did lack variety and they'd serve the chicken and pork entrees from the other night at breakfast. Totuga Beach is apparently open to all residents after 6pm but the misleading sign out front makes you think it's for elite members only and closes at 6pm. We were sent to Totuga on our last night because Agave was full. I don't think we were the only ones confused about the sign because there was hardly anyone in there. Totuga was a pleasant experience though my momentary memory lapse subjected me to bad wine. I got nervous about dipping my spoon into the orange liquid I recognized from Emiliano's but to my surprise the Seafood Soup here was hot and tasty. The Chicken Breast, Grilled Salmon and Raw Zucchini & Tomato Lasagna were great.