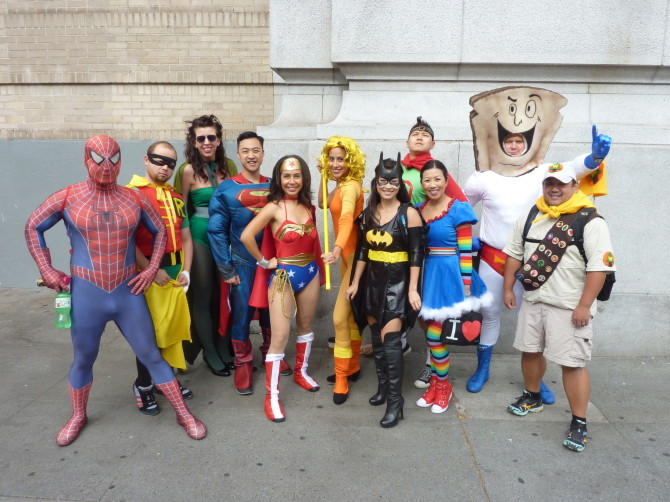 Superheroes and Super Villains unite!!!
This past Sunday, 14 of my friends and family dressed as Superheroes and Super Villains joined the revelers, walkers and runners celebrating the 2014 Bay to Breakers. Tens of thousands of us transcended onto the streets of San Francisco, scattering throughout the Outer Sunset and Ocean Beach. It was my fifth year in a row participating in B2B. My group always starts at the Civic Center because it's a central meet-up point for all of us coming from different areas of the Bay. With 14 of us, we had a pretty sizable group, larger than my usual B2B group but we were all able to stick together for the walk.
It was a little windy at times but it wasn't as hot as it was earlier in the week so that was good for those wearing tight lycra and spandex. The weather was actually almost perfect for the 7 mile walk and all the drinking we did. The 14 of us Superheroes and Super Villains included Superman, Batman, Batgirl, Robin, Ms. Robin, Wonder Woman, Rainbow Brite, Poison Ivy, Powered Toast Man from Ren & Stimpy, Quailman from Doug, Spiderman, Cheetara from Thundercats, Russell from Up and Super J-Man. My husband and my brother spent countless hours perfecting the Powered Toast Man costume. Many people along the course route or thought he was just Toast which was pretty funny. Steve made it onto the Ocean Beach Bulletin blog. Quite a few people stopped us to take pictures with our group of Superheroes and Super Villains. Everyone had an awesome time at B2B and we can't wait till next year.