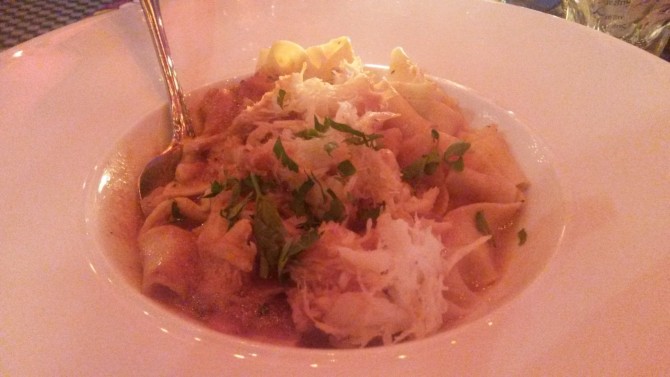 25+ Yummy Eats in San Francisco
Steve and I eat out way too much but lucky for us or not lucky for us, San Francisco is home to an extremely large number of good restaurants. Some are fancy while many are casual enough for you to drop by after a long day's work. I've put together a list of 25 or so yummy, yummy in my tummy restaurants we like to frequent. I don't have many pictures of the food because I feel like a douche bag snapping pictures before I allow my friends to eat. However, our subscribers have said we need pics of food so there are just a few below when I was able to capture the moment. I will remember to suck it up and be a douche with the camera next time.
Lunch
Wayfare Tavern has really good fried chicken that tastes even better with a little squeeze of lemon. It's so good, I always forget to take a picture of it before we tear that shit up. I think it's rather funny that one of Tyler Florence's best dishes is Fried chicken. Their Beef Tartare and Deviled Eggs are a must but skip the Egg Salad crap if it's offered. My friends recommend against the Egg Salad.
Elite Cafe puts their own twist on Cajun food. Their dishes don't taste like ones you'd find in New Orleans but they are delicious in their own right. Their Gumbo is of a thick consistency with more bell peppers than I'm used to. Their shrimp and grits is really creamy and tasty as are their Deviled Eggs and Smoked Beef Tartare. I enjoyed the appetizer size Etouffee as my entree after scarfing down the starters.
Often dubbed the French Quarter of San Francisco, Belden Place, between Pine Street and Bush Street, offers awesome sidewalk café-style restaurants such as Cafe Bastille, Plouf, B44, Cafe Tiramisu and many others. All the restaurants are good. One night, we got $1 oysters at Belden Taverna for happy hour, dinner at Plouf and dessert at Cafe Tiramisu. I really enjoy the squid ink pasta special at Cafe Tiramisu and their awesome warm and tasty profiteroles with chocolate sauce. B44 also has really good paella and Spanish tapas.
Tadich Grill is San Francisco's oldest restaurant, serving traditional American food and seafood fare. The waiters are old men wearing tuxedos who give no shits about your feelings so don't go there expecting special treatment. They don't take reservations and it's always packed so get there early with your entire group if you want to be seated right away or put your name on the list and have a cocktail at the bar and patiently wait. Tadich has a huge selection of seafood which makes ordering kind of hard but their servings are generous so I like to share, allowing me more choices.
Perbacco offers tasty Italian food. Try their signature pasta dish with short rib ragu. The short rib is fork-tender, bursting with the perfect amount of horseradish. It is so mind-blowing that even on my carb free diet, I had to oblige. Their sister restaurant next door, Barbacco, is cheaper but isn't as good and it feels cheap inside too.
Turtle Tower in the Tenderloin, AKA Little Vietnam, has delicious Northern Vietnamese food. Try their #6, a big bowl of pan fried noodle soup with stir fried beef and leeks. Turtle Tower isn't in the best of neighborhoods but the people on the street tend to leave you alone. Their other locations are in safer neighborhoods though I kind of prefer the dirty, dirty in the Tenderloin. Their restaurant itself is not dirty. In fact, they have the cleanest and largest restroom of any Asian restaurant I've eaten at in the San Francisco area.
City View in Chinatown has really good dim sum and they are one of two dim sum restaurants I know that offers vegetarian dim sum. This place is cheaper than Yank Sing which is the other restaurant offering veggie dumpling options and it is more authentic. I would never take my parents to Yank Sing. City View is my go to place with their servers speaking English with accents from my dad's hometown in China and the bussers with Hong Kongnese hair cuts.
Hang Ah Tea Room touts to be first and oldest dim sum restaurant in the U.S. Check out their unique dumplings and historic site.

Casual Dinner

Take a cable car trolley ride up to Frascati, where we had our first date. Frascati offers really tasty, contemporary Italian food in a quaint, little candlelit restaurant. They do wonders with figs.
NOPA offering contemporary fare, doesn't take reservations until the day of so it's hard to get a table at this North of the Panhandle restaurant. There's a community table and a bar you can hang around to poach a seat. They are also open late so if you're hungry and in the area, this is a great late night stop. All of the dishes I've had here have been delicious from grilled pork chops to roasted chicken. The appetizers have been phenomenal.
Calzones is a fun place to sit outside and people watch in North Beach. Their Italian food and service has been consistent throughout the years but they f'n redid their menu and have limited their pasta selections! In doing so, they have removed their salmon asparagus orzo which is such a bummer. Their crab pasta and their no-carb mixed grill dishes are my new faves. My favorite drink is their Moscow Mojito, a mojito made with vodka, which is so good I will sometimes stop by for a quick drink on a sunny day.
For some Asian fare, check out King of Thai Noodle for some cheap Thai food near Union Square. Their Pad Kee Mao is really good if you like spicy flat rice noodles but all their dishes are good and cheap. Did I mention cheap?
Looking to dine on some expensive Asian food? Charles Phan's Slanted Door is the best place for over-priced Vietnamese food. Give it a try if you feel inclined to visit an Iron Chef contestant's restaurant. It's not bad but completely over-rated with small portions and fancy plating. Another money gobbling choice? Osha Thai is super tasty but will put a dent in your "pocket book" (inside joke). I do love their Tuna Tower and Lemongrass Chicken so if you want to spend money on Thai food at a restaurant with ornate decor and flowers in your drinks, go to Osha. When it comes to Asian food, I think that the less expensive, the better but on occasion, I will drop by Osha at the Embarcadero to sit outside in their patio with a view of the Ferry Building.
Katana Ya Japanese Restaurant, near Union Square and Tanpopo in Japantown are both Japanese owned serving wonderful al dente ramen in a deliciously rich broth. A combination that's really hard to find! Most of the Japanese restaurants are Korean owned and their ramen is ok but more often than not, seems more like Chinese egg noodles.
For sushi, our favorite place is Tsunami in the Panhandle. Expect to spend more than you would at a neighborhood sushi restaurant. Their sushi rolls have a modern twist and their daily fish sashimi specials are often flown in from Japan. One of my faves is their Uni in a Spoon, uni topped with a raw quail egg in a Chinese soup spoon. When you put the spoon in your mouth, your taste buds go crazy with the different flavors melding together. With their large selection of sake and whiskey to wash down the sushi, you will go home stuffed and tipsy. Their parent company also owns one of the world's best bars, Nihon Whiskey Lounge, which I'll be visiting next month and is one of the top bars to visit before you die.
AsiaSF has good Asian Fusion food and unique live entertainment if you're into that kind of thing. It's actually a really fun place to celebrate birthdays and bachelorette parties. My husband has gone a few times with me and he thinks all single men should go there because the after dinner dancing involves a large a number of girls gyrating against each other.
There are way too many Chinese restaurants so how do you choose? And within Chinese, there's Cantonese, Hunan, Mandarin, Taiwanese, etc! Since I'm Cantonese, my family eats that a lot. R&G Lounge offers a good twist on Cantonese Chinese food. Try their Salt & Pepper Scallops and Mu Shu Chicken. Their spicy stuff isn't very spicy though. In the Richmond, I like Kirin for their Rainbow Raw Fish Salad (raw fish, pickled ginger, veggies and won ton skins) and Chicken Wings. For traditional Cantonese food in the Sunset, I'm digging Guangdong Barbecue Tea House. If you want a real Hong Kong experience, go to Fung Wah in Daly City. You'll find home cooked dishes your grandma makes like Steamed Pork Patty and Salted Fish. The best part of Fung Wah is the waitress yelling at you in a jovial way for bothering her for a fork (for my dad as he says forks are easier to pile that shit into your mouth) or more tea. It really does remind me of Hong Kong.
Hunan Home is my fave Chinatown restaurant for spicy food. I've gone here since I was a little kid and it's been consistently good and spicy.
Cha Cha Cha's Haight and Mission locations offer delicious tapas and awesome sangria that's got just enough alcohol, fruity flavor and isn't too sweet. We prefer the Mission location because it's three times as big. You must have the Cajun Shrimp with extra bread for dipping. My friends always get the plantains and potatoes. I go for the ceviche, mushrooms and jerk chicken.

Fine Dining Dinner

Gary Danko is one of the very best contemporary restaurants in the city. It's not cheap but it's definitely worth it. Their menu allows you to decide on how many entrees you want in your tasting menu so it's possible to get out of there for under $100 per person if you skip pre-dinner drinks and wine. But who wants to do that? I took Steve here when he got a promotion. I have to find a reason to celebrate here again.
Chiaroscuro is our new favorite Italian restaurant in the Financial District. For dinner, you select the number of courses you want to enjoy and they help you determine your evening's menu. You can also add the wine pairing.
Chapeau in the Richmond offers excellent French food and good service. We were a party of five and everyone's dishes were cooked to perfection; fish, beef, and chicken. The escargots had the right amount of butter and garlic which we spread over the bread. Yum! Two people shared the huge-ass meat entree that's served tableside. And it came with sides. There was enough for the rest of us to take a few bites and it was really good!


Brunch

All of the below have very long waits so get there at a decent time before the lines. We love all three of these places equally.

Dottie's True Blue Cafe – Steve loves this place.
Mama's on Washington Square is super cute. It's located in a beautiful area so you can go for a walk after brunch or just lay in the park nearby. My hubby and our co-workers loved sunny days in Washington Square Park with all the chicas sunbathing.
Pork Store in Haight-Ashbury is a relatively small place with sticky counters but hey, it gives it character!
Now, if you want to check out a hidden gem of a neighborhood, head over to Bernal Heights and have brunch at Liberty Cafe on Cortland. Their bakery offers full pies to take home. My friends like to pick them up for family parties. This quiet street will be packed on a weekend with families pushing strollers and walking their dogs. Have a walk after brunch or lunch and poke your head into the unique shops lining the street.