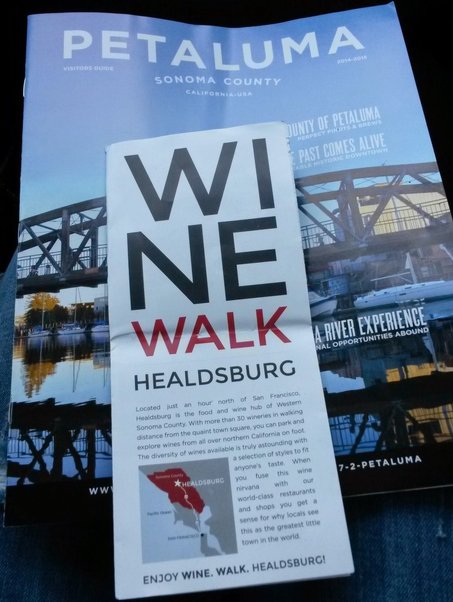 1 Weekend: 3 Wineries & 3 Restaurants in Petaluma and Healdsburg
It's the first weekend of New Year's 2015 and it appears I haven't written a blog post in a few months. I thought I'd kick off the year by writing about my recent visit to Sonoma County. We had won a gift certificate for a hotel stay at the Sheraton Sonoma County a year earlier and it was about to expire so we decided to make a wine tasting trip out of a weekend in December. We visited three tasting rooms in downtown Healdsburg followed by dinner in downtown Petaluma and breakfast the next morning also in downtown Petaluma. Each winery provided a different experience so we'd recommend all three so you can enjoy a wide range of scenes. Both food and service were excellent at dinner and breakfast.
When our friends invited us to join them for wine tasting, we had the preconceived notion that we'd do our normal routine and venture to wineries with an abundance of grape vines and rolling hillsides around the area but instead, we visited tasting rooms in downtown Healdsburg. We were pleasantly surprised by the charming tasting rooms and unfamiliar experience. The ability to walk to each location versus having to drive to the wineries and the simple, unpretentious, lounging ambiance was great. We lucked out that it didn't rain while we were out and we just held hands and skipped from one place to the next, having a grand ole' time.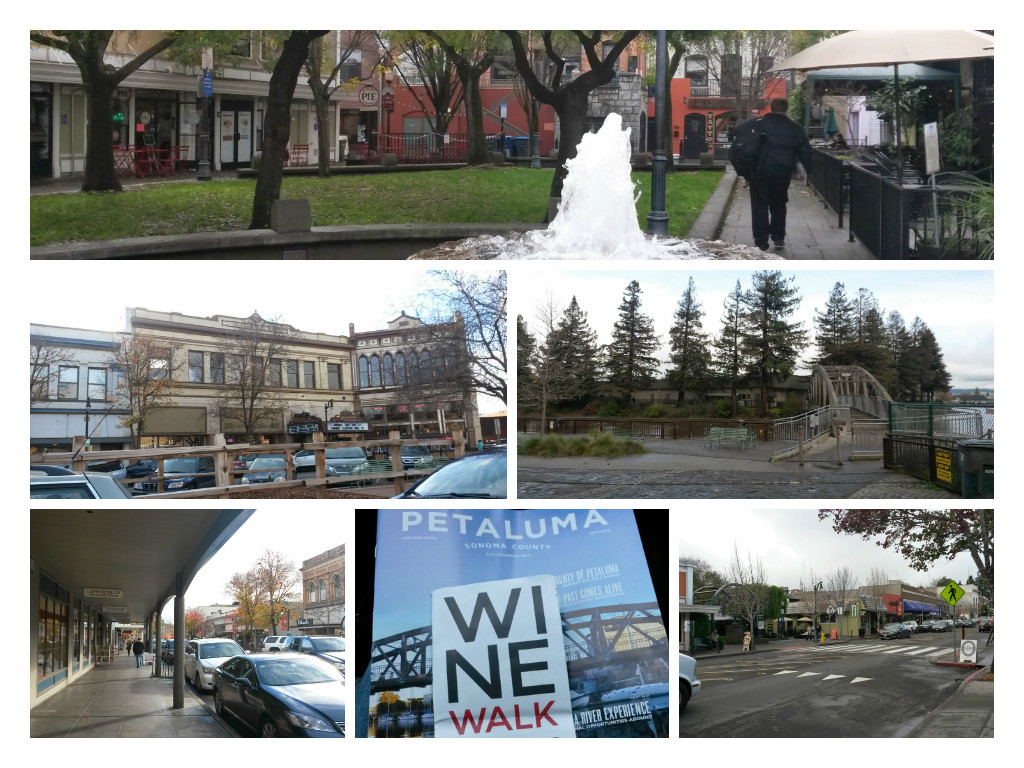 Oakville Grocery
124 Matheson Street, Healdsburg, CA 95448
Tel: (707) 433-3200
Fax: (707) 433-2744
Windsor Vineyards
308 Center Street, Healdsburg, CA 95448
Tel: (707) 921-2893
Williamson Wines
134 Matheson Street, Healdsburg, CA 95448
Tel: (707) 433-1500
Fax: (707) 433-1859
Limerick Lane Winery
1023 Limerick Lane, Healdsburg, CA 95448
(707) 433-9211
Central Market
42 Petaluma Blvd North, Petaluma, CA 94952
Tel: (707) 778-9900
Fax: (707) 778-3860
McNear's Saloon and Dining House
23 Petaluma Blvd North, Petaluma, CA 94952
Tel: (707) 765-2121
Sheraton Sonoma County – Petaluma
745 Baywood Drive, Petaluma, CA 94954
Tel: (707) 283-2888
My Full Weekend Summary
We drove north and then hopped into our friends' car. They drove us into downtown Healdsburg and we ate in the outside patio at Oakville Grocery where I happily ate my first sandwich in many months. Since being on a low carb and gluten free diet, I hadn't had a sandwich in a long time. The store had a varietal of sandwiches, salads as well as other cold and hot dishes and bottles of wine for consumption. Steve and I split a Turkey Pesto Sandwich with gluten free bread, Brussel Sprouts, Baby Spinach Salad with Beets and some yummy dolmas. Our friends ordered the Mac & Cheese, Brussel Sprouts and Turkey Pesto Sandwich too. My brain thought it was the best sandwich in the world but in reality it was truly a typical good tasting sandwich with nothing special. Both the salad and dolmas were tasty and I think you kind of pay for the atmosphere along with the food. The patio was pretty awesome because it was covered and there were side flaps blocking the wind and a nice fireplace to keep us warm. I'd recommend Oakville Grocery for a stop before you start drinking.
Our friends took us into the Windsor Vineyards Tasting Room down the street from Oakville Grocery. It was ironic we were began our wine tasting at Windsor because when I first started working with Steve, he ordered bottles of personalized wine with custom labels made from here and I had shook my head and rolled my eyes at his excessive spending habit back then. Somehow, after all those years, like a happy accident, we found ourselves at Windsor. Their tasting room was really cute, cozy and inviting. They had a few sofas, small tables and stools by the window and a long bar to enjoy your wine. There was a back room too but it was reserved the day we were visiting so we couldn't go back there. The service at Windsor was friendly and their wine tasting charge wasn't too bad ($7-$10 per person). I felt comfortable at Windsor chatting with our friends and sipping on wine. It was like hanging out in a friend's living room. I didn't care for any of Windsor's red wines and only liked their Chardonnay.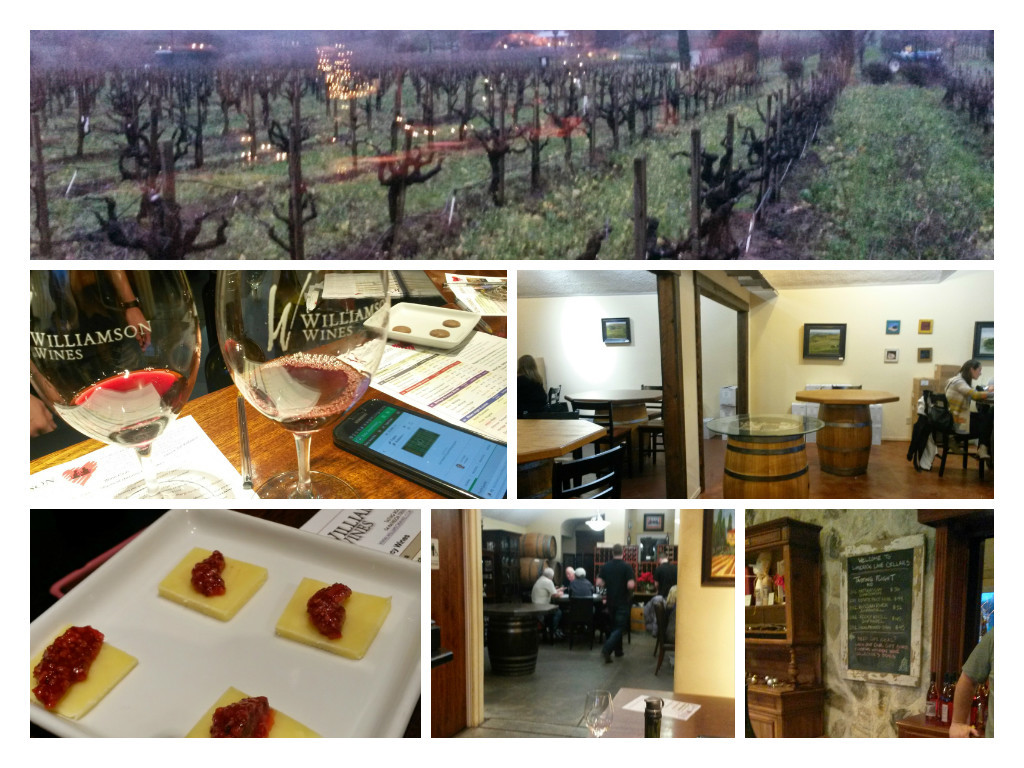 Next, we went to Williamson Wines Tasting Room where they provide you with a tasty nibble of something with each wine tasting. The pairings really enhanced each swish of wine and you could taste all the unique flavors coming out of the wine. Williamson had a small counter for tasting the wines and a nice sitting room off to the side for socializing with friends. The atmosphere and experience here is a lot different than Windsor. It's a bit louder, like what you'd expect at a busy cafe and it's a fun place to visit. The basic wine tastings and food pairings are complimentary and the staff is approachable, friendly and knowledgeable. I appreciated the wine and pairings and highly recommend a stop here. All their wines were pretty good. I think next time, I'll reserve a table to have a whole new experience.
It was close to 4:30 PM but we decided to visit the Limerick Lane Winery before it closed so we rushed out of Williamson and drove to the actual winery. It's about three miles from downtown Healdsburg. The tasting room of Limerick Lane was tiny with a backdrop of hills and grape vines. The dusk skies provided the perfect view of their estate. Limerick was more like the wineries we were used to though their tasting room was smaller. But their estate is quite large with 30 acres of old-vine Zinfandels, Syrah and Rhone blends. I really enjoyed Limerick's wines and thought they were great. We ended up leaving with a few bottles. I don't recall how much their tasting fees were and their service was ok. It's hard to judge since we ran in there right before they closed and we were their last visitors.
We ended up going back to downtown Healdsburg so that we could enjoy more wines at Williamson since they close at 7pm. On the trek there, I ducked into the store, Bella. I do not recommend shopping at this store. A woman, who I took to be the owner or manager, followed me around like I was going to shoplift while the other sales associates stood around jabbering. Their prices were outrageous for stuff I recognized at other stores in San Francisco for far less money. Bella tries to be a boutique store catering to all ladies of different age groups but it is packed full of cool items and overstuffed with junk. Though I appreciate their effort in providing fashion attire in a small town to those who can't make it out to the big city, I think that they shouldn't charge an arm and a leg while providing horrible service. I grew up in a small town so I know that the convenience of a boutique is great but not at those prices.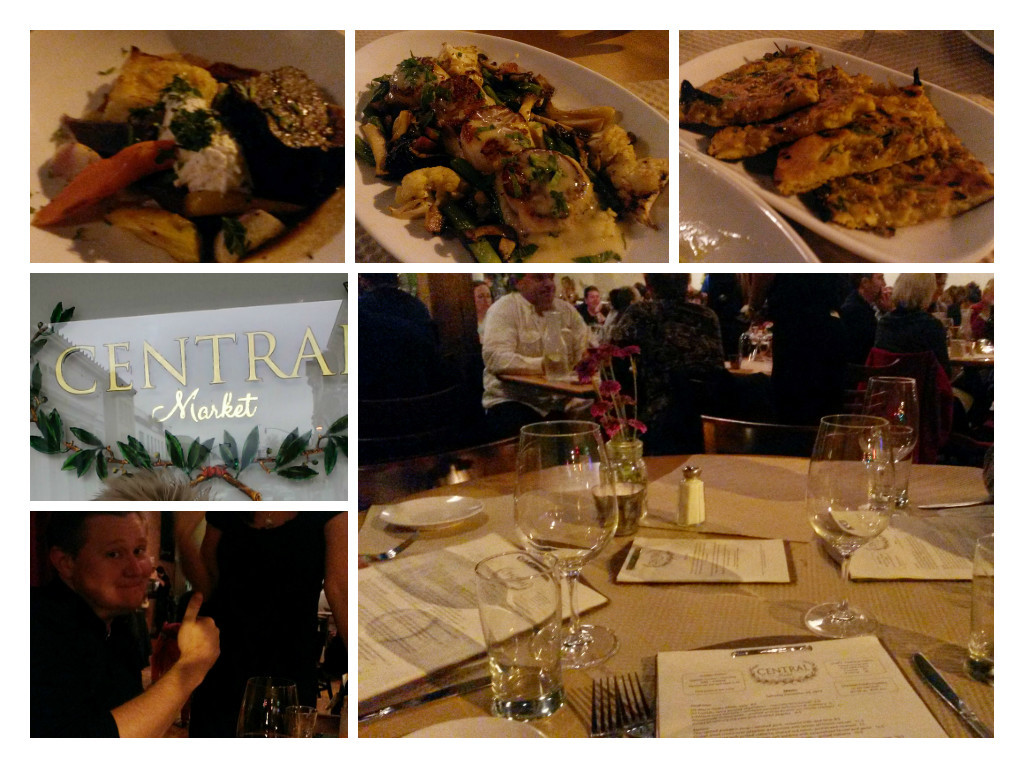 That night, we had dinner at Central Market in downtown Petaluma. The food and service here was outstanding! We started with Salmon Crudo over Jalapeno Guacamole and Mediterranean Chickpea Latkes which were both delicious but the latkes were amazing. Our friend recommended them and both Steve and our friend enjoyed them a lot so I veered from my low carb diet and ate one since I had to soak up all that wine anyways. I had the Wagyu Beef Sirloin Steak with mixed greens and fries with their housemade catsup. Steve had Slow Cooked Angus Beef Short Ribs and our friend had Seared Scallops. Our friend said that he never orders scallops but he thinks they prepare them really well at Central Market so he often orders them. Both Steve and I enjoyed our beef dishes. The short ribs had good flavor and was tender and the medium rare steak was well seasoned and cooked perfectly.
For football Sunday, we had to find a bar that showed all the football games and we found an ace of a place at McNear's Saloon and Dining House in downtown Petaluma. McNear's had many televisions throughout the first and second floors as well as old video game machines! The service and food were great. We were immediately greeted as we entered through the door and they brought us to a table where we could easily watch our game. They served good Bloody Marys and delicious Prime Rib Hash and Huevos Rancheros as well as other brunch specials. The hash was cooked with big chunks of potatoes so I was able to pick them out to reduce carbs and came with a side of fruit. The hash was really good. The rancheros were uniquely prepared with refried beans instead of black beans and we'd never had them with refried beans but they proved to be really good.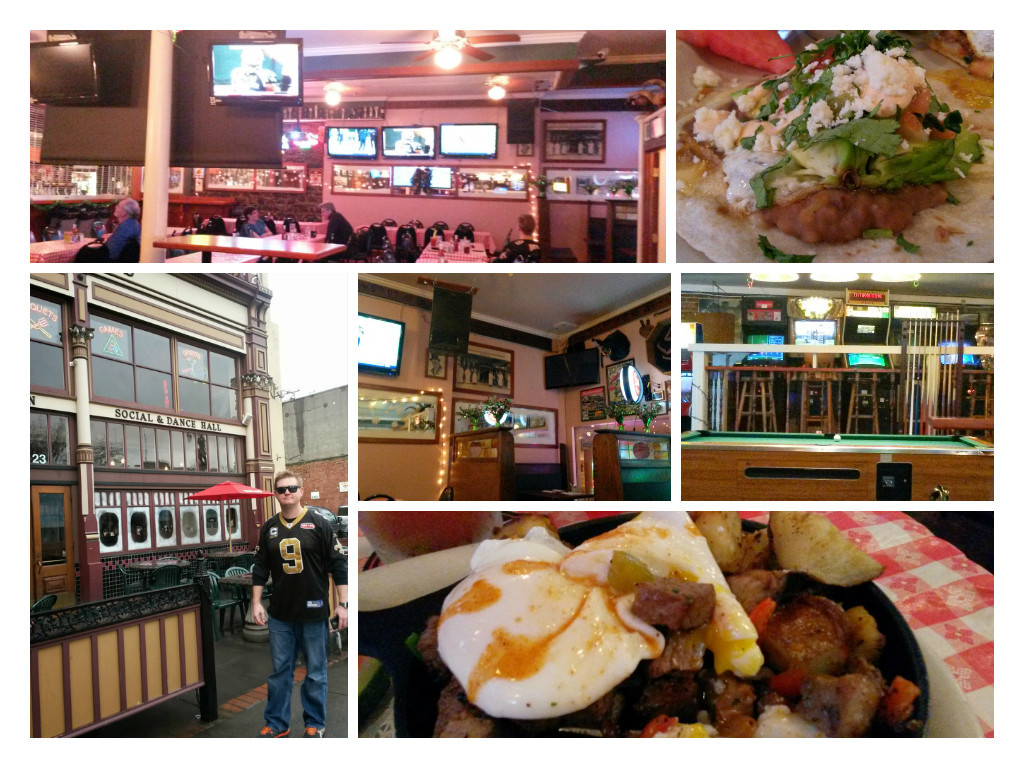 After the game, we walked around downtown Petaluma. It was really cute and we loved the used bookstore and all the antique stores. The furniture stores were great too and the service at all the stores was friendly. We loved downtown Petaluma and noted it was actually much nicer and more populated than downtown Napa. None of the buildings were vacant and the area was bustling.
We want to return to downtown Petaluma and downtown Healdsburg for another weekend trip but next time, we'll stay in town versus the Sheraton Sonoma County – Petaluma. The hotel was fine but we had to drive into town and we realized how much more fun and convenient it would have been with the ability to walk everywhere and stumble home. Staying in town would really add to the overall experience and charm of the towns.